Future is here: World's largest hydrogen-electric aircraft completes maiden flight
Future is here: World's largest hydrogen-electric aircraft completes maiden flight
Jan 20, 2023, 02:46 pm
2 min read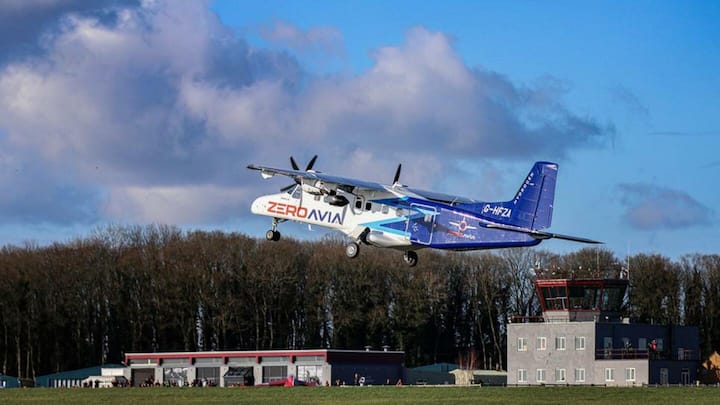 ZeroAvia, a British-American hydrogen-electric aircraft developer, successfully carried out the maiden test flight of the world's largest hydrogen-electric aircraft. The 19-seater, twin-engine Dornier 228 airplane, fitted with a prototype hydrogen-electric powertrain, completed a 10-minute flight from Cotswold Airport in Gloucestershire, UK. This feat puts the company one step closer to meeting its target of commercial flights using only hydrogen fuel cell power by 2025.
Why does this story matter?
The test flight is a part of the HyFlyer II project, an R&D program funded by the UK government's flagship ATI program which works on developing better small passenger planes for the environment.
The success of the maiden test flight marks a significant step in addressing aviation's climate change impact and is a major innovation milestone for the UK Government's Jet Zero Strategy.
The test configuration was housed inside the cabin
The test module included a hydrogen-electric powertrain comprising two fuel cell stacks with Lithium-ion battery packs. The powertrains were fueled using "compressed gaseous hydrogen produced with an on-site electrolyzer." During testing, the hydrogen tanks and fuel cell power generation systems were housed inside the cabin but for commercial purposes, they would be moved to external storage to make space for seating.
ZeroAvia's hydrogen-electric engine was fitted on its left wing
The twin-engine aircraft was fitted with ZeroAvia's hydrogen-electric engine on its left wing and a Honeywell TPE-331 stock engine was incorporated on the right. "Dornier 228 will conduct a series of test flights from Kemble and later demonstration flights from other airports," said the company.
'We are building the future of sustainable, zero-climate impact aviation'
"The first flight of our 19-seat aircraft shows just how scalable our technology is and highlights the rapid progress of zero-emission propulsion," said Val Miftakhov, founder and CEO of ZeroAvia. "This is only the beginning - we are building the future of sustainable, zero climate impact aviation. Our approach is the best solution to accelerate clean aviation at scale."
ZeroAvia intends to certify the technology this year
As per the company, this is the largest ZeroAvia engine tested to date. The firm intends to certify the technology this year and hit commercial routes by 2025. The company is also working on a 2-5MW powertrain program that will scale the technology for up to 90 seats, with the goal of expanding into narrow-body aircraft over the next decade.
Check out the footage of the test flight