'Unreasonable': China slams overseas COVID-19 entry restrictions on its travelers
'Unreasonable': China slams overseas COVID-19 entry restrictions on its travelers
Jan 03, 2023, 06:34 pm
3 min read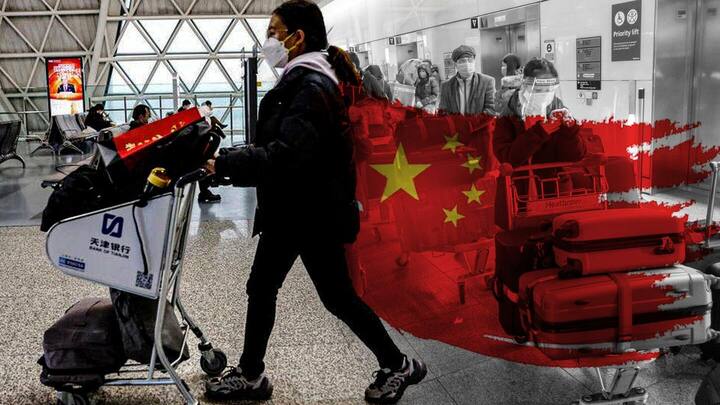 China on Tuesday denounced the new COVID-19 regulations, including mandatory test requirements, imposed by a dozen nations on travelers departing from its territory. While calling the restrictions "unreasonable," it warned of "countermeasures" in response. Notably, several countries, including the United States, Canada, France, and Japan, have made negative COVID-19 tests necessary for passengers from China following the fresh coronavirus surge in the country.
Why does this story matter?
After widespread protests against the strict lockdown of over three months and other curbs, China relaxed restrictions under its "zero COVID-19" policy in December.
Reportedly, many cities have relaxed quarantine rules, testing requirements, and control of movement.
However, following this, the country is reportedly facing a fresh spike in cases, prompting at least 12 countries to impose travel restrictions on travelers from China.
Chinese Foreign Ministry warns of countermeasures
"Some countries have taken entry restrictions targeting only Chinese travelers," Chinese Foreign Ministry spokesperson Mao Ning said at a media briefing on Tuesday. She said the curbs and other obligations issued by several countries for travelers from China lack scientific basis. She also termed some practices "unacceptable." She also warned that the country could "take countermeasures based on the principle of reciprocity."
These countries have imposed COVID-19 curbs on travelers from China
Following an increase in COVID-19 cases, more than a dozen nations and territories have reportedly implemented restrictions on Chinese tourists. Negative test results have been mandated by Australia and Canada for all travelers from mainland China, Hong Kong, and Macau. These new restrictions were issued on Sunday. Other countries that have enacted similar travel restrictions include the United States, Japan, and South Korea.
China's official media downplays latest coronavirus wave
The Communist Party's official newspaper, People's Daily, quoted a number of Chinese medical professionals in a report on Tuesday that said the majority of people who contracted the virus were just mildly unwell. "Severe and critical illnesses account for 3% to 4% of infected patients currently admitted to designated hospitals in Beijing," Beijing Chaoyang Hospital Vice President Tong Zhaohui told the publication.
Chinese tourism sector in recovery mode
Though overseas restrictions have mandated negative COVID-19 reports for flyers from China, the country's tourism sector has picked up as the country's pandemic response policy has been optimized, as per Global Times. Inter-provincial travel and long-distance travel have recovered in an orderly fashion during the three-day New Year holidays. China relaxed travel rules within the country in December 2022.
President Xi Jinping says 'light of hope right in front'
In his New Year address on Saturday, Chinese President Xi Jinping said that the "light of hope is right in front," days after he called for actions to "effectively protect people's lives." The Chinese president also claimed, with tremendous effort, that the country has endured unprecedented challenges and difficulties, as China reported over 7,000 new coronavirus cases and one related death on Saturday.
China's COVID-19 scenario changed drastically
According to a new study, China's abrupt abandonment of its strict "zero COVID-19 policy" might result in roughly one million fatalities in the country. Reportedly, China is witnessing an unprecedented surge of COVID-19 infections extending from its major cities into its rural areas. Its policy reversal on COVID-19 guidelines caught citizens and the medical system off guard, leaving hospitals struggling amid the unprecedented surge.