India-Pak were on brink of nuclear war after Balakot: Pompeo
India-Pak were on brink of nuclear war after Balakot: Pompeo
Jan 25, 2023, 02:21 pm
3 min read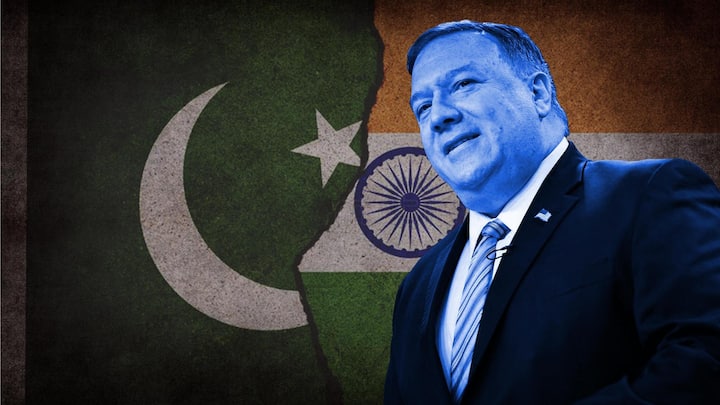 Mike Pompeo, former United States (US) Secretary of State, revealed that ex-Indian External Affairs Minister Sushma Swaraj informed him that Pakistan was plotting a nuclear strike after the 2019 Balakot airstrike in February. In his book Never Give An Inch: Fighting for the America I Love, Pompeo claimed the development occurred during his visit to Hanoi the same month for the US-North Korea summit.
Why does this story matter?
In February 2019, India broke the precedent by launching air strikes inside Pakistani territory after accusing a terrorist group of a suicide bombing in Kashmir that claimed the lives of 41 Central Reserve Police Force (CRPF) jawans.
India gunned down an F-16 fighter aircraft during aerial combat, in which Pakistan also gunned down an Indian warplane and captured the pilot.
India-Pakistan rivalry came to a nuclear strike in 2019: Pompeo
According to the news agency AFP, Pompeo wrote that the world doesn't know how close India and Pakistan were to a nuclear war. "I don't think the world knows exactly how close the India-Pakistan rivalry came to a nuclear strike in February 2019. The truth is, I don't even know the exact answer. All I know is that it was very close," he said.
Pompeo's unforgettable night in Hanoi!
The 59-year-old also claimed he would never forget his night in Vietnam's Hanoi. "I was in Hanoi on February 27-28 for the summit to reduce tensions between the US and North Korea. Then I came to know about the whole thing in the night and my entire team worked for the whole night to convince India and Pakistan," he wrote in his book.
Had to work very hard to convince Sushma Swaraj: Pompeo
Pompeo wrote that, as if negotiating with North Korea regarding nuclear weapons wasn't enough, both Pakistan and India also began threatening one another over the Kashmir dispute. The 59-year-old added that he "had to work very hard to convince Sushma Swaraj to do nothing for the time being and give America some time to resolve the whole dispute."
Pompeo backed India's right to act
At the time, the former US Secretary of State had publicly backed India's right to act and spoke highly of India in his book. Pompeo also made no secret of his wish to ally with the South Asian democracy to counteract Chinese aggression.
S Jaishankar reacts to Pompeo's claims on Swaraj
Meanwhile, External Affairs Minister S Jaishankar condemned Pompeo's claims. Deploring the former US diplomat's comments on Swaraj, he told the news agency PTI: "I have seen a passage in Secretary Pompeo's book referring to Smt Sushma Swaraj ji. I always held her in great esteem and had an exceptionally close and warm relationship with her. I deplore the disrespectful colloquialism used for her."
Know about India's Balakot airstrike
In February 2019, India launched an airstrike on the terror training camps of Jaish-e-Mohammed. After the February 26 Balakot attack, Pakistan retaliated by attempting to hit Indian military installations on February 27. As a result, India dispatched MiG-21 and Sukhoi Su-30MKI fighter jets to retaliate against Pakistani jets. In this, Abhinandan Varthaman's MiG-21 Bison was gunned down by Pakistan's F-16 fighter aircraft.