California mass shooting: 72-year-old suspect shoots himself after police standoff
California mass shooting: 72-year-old suspect shoots himself after police standoff
Jan 23, 2023, 10:33 am
3 min read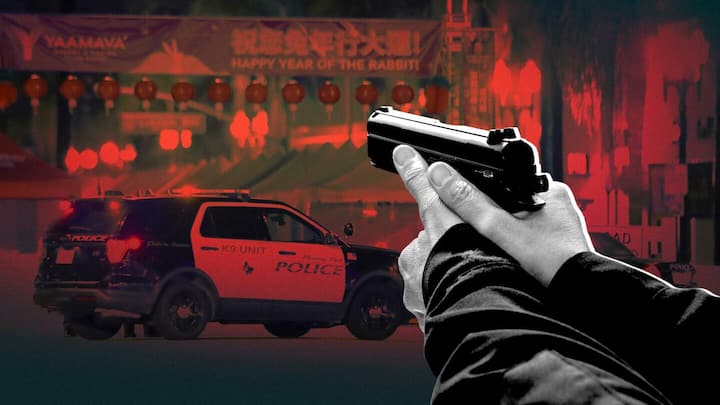 The 72-year-old suspect of the mass shooting in California, US, which left 10 dead and 10 injured late Saturday (local time) during the Chinese Lunar New Year celebrations, reportedly shot and killed himself in a van after being surrounded by the police. Los Angeles County Sheriff Robert Luna said there are no outstanding suspects from the incident. The motive behind the incident is unknown.
Why does this story matter?
The suspect, Huu Can Tran, was reportedly wielding a pistol with a high-capacity magazine and opened fire inside a ballroom in Monterey Park and fled the scene in a white van.
Cops tracked him down and released his images captured on CCTV cameras. He was cornered in Torrance—34km from the crime scene—12 hours after the attack, following which he turned the gun on himself.
Police identified the suspect and sent out a warning
On Saturday January 21, 2023 at 10:22 PM the suspect male/adult/Asian pictured above was involved in a shooting. Investigators have identified him as a Homicide suspect and he should be considered armed and dangerous.
Contact LASD Homicide with any information at 323-890-5000. pic.twitter.com/2gPUBBybvv

— Robert Luna (@LACoSheriff) January 22, 2023
Suspect fled to another dance venue in neighboring city
About 20 minutes after fleeing the site of the shooting, Star Ballroom Dance Studio in Monterey Park, the suspect headed to another dance venue in the neighboring city of Alhambra while holding the gun. However, the people there managed to wrest the gun off him, and he fled the scene; no one was shot there. Among the victims were five men and five women.
Monterey Park has a 65% Asian population
Around 11km from downtown Los Angeles, Monterey Park's nearly 65% of residents are Asian, the US Census data shows. The celebrations planned for the second day of the two-day Chinese Lunar New Year celebrations there were canceled. Monterey Park is known for its many Chinese restaurants and groceries, drawing thousands of people across Southern California. Many streets are closed during Lunar New Year celebrations.
The celebrations for Sunday were canceled
647 mass shootings reported across the US in 2022
Mass shootings are recurrent in the US due to lax gun control laws. Last year, as many as 647 incidents of mass shootings, defined as gun shootings in which at least four people are killed, were reported across the US, as per the Gun Violence Archive website. In 2022, over 44,000 people died of gunshot wounds, more than half of which were suicides.
Deadliest mass shooting in California
In May 2022, a gunman shot 19 students and two teachers to death at a school in Uvalde, Texas. The deadliest mass shooting incident in California was in 1984 when a gunman killed 21 people at a McDonald's restaurant in San Ysidro, near San Diego.