'All That Breathes,' 'Elephant Whisperers': Know everything about Oscar-nominated documentaries  
'All That Breathes,' 'Elephant Whisperers': Know everything about Oscar-nominated documentaries  
Jan 25, 2023, 01:07 pm
3 min read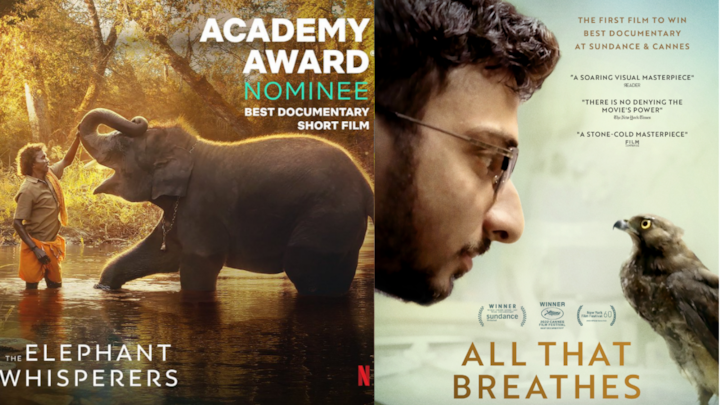 Indian content is transcending boundaries, and the testimony to this is the recent Oscar nominations of the documentaries All That Breathes and The Elephant Whisperers. The two documentaries were nominated for the 95th Annual Academy Awards in the Documentary Feature (All That Breathes) and Documentary Short (The Elephant Whisperers) categories. As the world rejoices in this news, let's delve deeper into the shortlisted documentaries.
Why does this story matter?
India has scored three nominations at this year's Oscars.
Since its inception in 1929, the race to win the coveted prize has only gotten tougher by the day.
Indian movies have not had a great run in these awards, as only a select few managed to bring glory to the nation.
This includes prominent names like Bhanu Athaiya, Satyajit Ray, AR Rahman, and Gulzar.
What is 'All That Breathes' all about? 
Director Shaunak Sen puts a lot of emphasis on siblings Mohammad Saud and Nadeem Shehzad, who are dedicated to rescuing and treating injured birds, in the highly polluted city of New Delhi. The director's vision is clear - to establish issues like climate change, and how animals are adapting to this, in relation to humans. The overall commentary is complemented by beautiful cinematography.
'The Elephant Whisperers': An ode to devotion and love 
The other nominated documentary is The Elephant Whisperers, currently streaming on Netflix. Helmed by Kartiki Gonsalves, the story intricately revolves around a family, comprising humans Bomman and Bellie, and their children Raghu and Ammu (young elephants). Surrounded by Nilgiris, in the Theppakadu Elephant Camp, this documentary is packed with mesmerizing visuals and showcases a beautiful relationship between man and nature.
'All That Breathes' stands a great chance of winning
Indian filmmaker Sen's docu-film All That Breathes has secured a nomination at the upcoming 95th Academy Awards, and seemingly, the documentary stands a great chance at bagging the coveted prize. The reason is its previous wins! The documentary has proved its mettle on various international stages by clinching the top documentary awards at prestigious festivals like Cannes Film Festival and Sundance Film Festival.
Other documentaries nominated under these categories
Apart from All That Breathes, other films that have been nominated under the Documentary Feature category are All the Beauty and the Bloodshed, Fire of Love, A House Made of Splinters, and Navalny. In the category of Documentary Short Film, The Elephant Whisperers is in the race with Haulout, How Do You Measure a Year, The Martha Mitchell Effect, and Stranger at the Gate.