#NewsBytesExclusive: Anees Bazmee talks about 'No Entry 2' and more 
#NewsBytesExclusive: Anees Bazmee talks about 'No Entry 2' and more 
Feb 01, 2023, 11:57 am
3 min read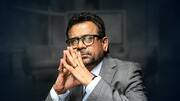 Known for delivering some of the best comedy films, Anees Bazmee has become the talk of the town since his 2022's blockbuster Bhool Bhulaiyaa 2 was released. He recently won the Best Director trophy for the film at Stardust Awards. In a free-flowing conversation with NewsBytes, Bazmee talks about Bhool Bhulaiyaa 3, No Entry 2, and working with Varun Dhawan and Shahid Kapoor. Excerpts.
Is there a reunion with Kartik Aaryan on cards?
Kartik Aaryan and I share a great rapport; we keep meeting frequently and met a few days back too. He is a great actor and we have mutual respect and admiration for one another. Yes, there is a possibility of a reunion since we are in talks for Bhool Bhulaiyaa 3. If things fall in place, we will be working together once again.
Bazmee to retain original cast for 'No Entry 2'
No Entry 2's script took me nearly two years to write. I personally feel it is a very well-written script. When the script was narrated to Salman Khan, he immediately came on board for it. We're waiting for Khan to give us a nod to begin filming. The sequel will reprise the original cast comprising Khan, Anil Kapoor, and Fardeen Khan.
On working with Varun Dhawan, Shahid Kapoor
I keep meeting Shahid Kapoor, Varun Dhawan, Aaryan, and other actors. They all are my friends from the industry. Yes, I want to work with Kapoor and Dhawan. Once there's something concrete, we will announce it officially. Speaking of their craft, all three have their own individuality when it comes to acting. They're good actors, have great comic timing, and are excellent dancers.
Bazmee's comedy 'comes without vulgarity, double meaning, and buffoonery'
Comedy, for me, is a very serious business. It comes without vulgarity, double meaning, and buffoonery. Some of the most hilarious comic scenes in my films, including the climax scene for No Entry, were written when I was in a foul mood. It's the situation in my films that's comic. In fact, I ask my actors to not do comedy.
Is mixing comedy with other genres a good practice?
Filmmakers should continue experimenting with mixing genres. Until you are not experimenting, you would not know what will work for the audience. When it comes to filmmaking, comedy, I feel is a very safe genre that comes with a longer shelf life. Making a comedy film is very difficult but at the same time, mixing it with different genres is a good experiment.