OTT: Everything to know about Netflix's upcoming 'That '90s Show'
OTT: Everything to know about Netflix's upcoming 'That '90s Show'
Jan 04, 2023, 02:10 am
2 min read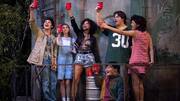 Netflix's upcoming period teen sitcom That '90s Show will be premiering on the OTT giant on January 19, 2023. The story is set in the summer of 1995 in the old Forman household. The series is a successor of That '70s Show which was set in the '70s. Fans are eagerly waiting for the teen sitcom and here's all you need to know.
Why does this story matter?
Situational comedy or sitcom as we call it is one of the most watched genres in the television format. Over the years, there have been numerous sitcoms and some of them emerged to be a huge part of pop culture.
Sitcoms like F.R.I.E.N.D.S, Brooklyn Nine-Nine, The Office, and many more have a huge fan following and people binge-watch them and use them as memes.
The returning cast members
Kurtwood Smith and Debra Jo Rupp will be returning in the successor show as Red and Kitty Forman. They are also donning the hats of executive producers. Another member of the original cast returning is Tommy Chong. Reportedly, Topher Grace, Mila Kunis, Laura Prepon, Ashton Kutcher, and Wilmer Valderrama will have guest appearances. Prepon will be helming the series.
The new cast members will be led by Callie Haverda as Leia Forman. Ashely Aufderheide, Mace Coronel, Maxwell Donovan, Reyn Doi, and Sam Morelos will also feature in the series as Leia's friends and members of the extended family. Fans are excited to see the combination of new and old cast members and how they will add an extra edge to the OTT series.
More about the previous show and expectations from the sequel
As per Netflix, the series will premiere with 10 episodes on January 19 and it will be revolving around the Forman family and their daily lives and how it has evolved with time. That '70s Show celebrated and also mocked the fashion sense of the era and the series had several subplots like their obnoxious yet lovable neighbors and many more.