Will turn liquor shops into cow sheds: BJP's Uma Bharti
Will turn liquor shops into cow sheds: BJP's Uma Bharti
Feb 01, 2023, 10:21 pm
3 min read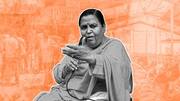 Former Madhya Pradesh Chief Minister and Bharatiya Janata Party (BJP) leader Uma Bharti sought to link the recent rise in crimes against women in the state to consuming alcohol. Furthermore, the BJP leader also pushed to convert liquor stores that are operational in violation of rules into cow shelters and announced the launch of the "Madhushala Me Gaushala" (cow shelters inside liquor stores) program.
Why does this story matter?
Bharti has voiced her thoughts against the state's liquor policy for a while.
In January, she had written to CM Shivraj Singh Chouhan regarding Madhya Pradesh's liquor policy.
The BJP leader highlighted that she and others were to be conferred by the state government before forming a new liquor policy, which hasn't been done since.
I will start converting liquor shops: Bharti
Addressing the media in Ayodhya Nagar, Bharti claimed on Tuesday that a liquor shop near the famous Ram Raja Sarkar temple at Niwari district's Orchha, approximately 350km from Bhopal, was unlawful. "Without waiting for the liquor policy, I will start converting liquor shops, which are being run in contravention of rules, into cow shelters," Bharti was quoted as saying by PTI.
Consuming liquor reason behind crime against women in MP: Bharti
The BJP leader also said she asked people to arrange 11 cows and put them up outside the "illegal" liquor shop. "Will see who dares to stop me... will feed these cows and arrange water for them at the liquor shop," Bharti said. She also claimed that MP is leading in crime against women, and consuming liquor was one of the reasons for it.
BJP winning polls due to PM Modi's magic, claims Bharti
While claiming that a part of the BJP has been trolling her for her drive against liquor consumption, Bharti said that the party is winning elections thanks to Narendra Modi's "magic." "Will I get that post (of PM) due to liquor prohibition agitation? A section of the BJP is spreading such things," alleged the former Union minister.
MP women want control over liquor policy: Bharti
Speaking at a gathering recently, Bharti claimed that women did not want government schemes like the newly announced Ladli Bahina Yojana (for women from financially weaker sections). Instead, women of the state want a controlled liquor policy, she alleged. Bharti also added that women roam freely at night like "lioness of Gir" in Gujarat and eat bhelpuri because prohibition is in force.