5 popular fashion trends to rock 2023
5 popular fashion trends to rock 2023
Jan 01, 2023, 04:15 am
2 min read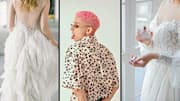 The year 2022 has ended, and with all the fashion shows held over the year, we have noted down the trends and styles that are going to rule the market next year. From statement sheer pieces and tassel trim hemlines to lacy dresses, 2023 has a lot to offer. Here are five popular fashion trends to rock 2023.
Lace maxi dresses are a must-have in your wardrobe this new year, as this luxurious fabric is timeless, classic, and elegant. Recently, Dior and Versace revealed their 2023 lace collections reflecting gothic glamor. Burberry also launched its lace lingerie-inspired pieces at London Fashion Week, which are going to be a rage next year. Lace tops and shirts will also rule the market.
Fringe and tassel dresses
Dresses with fringe and tassel hemlines are going to be a huge trend in 2023. This boho chic look was popular in the late '70s, and the modernized versions look more elegant and stylish. These dresses are perfect to wear at parties. You can wear a dark-colored tassel dress with a neutral sweater or a leather jacket and suede boots.
Animal prints are all set to make a comeback in 2023. So, get ready to invest in some leopard-printed clothes and add them to your wardrobe for an edgy look. Recently, Milanese designers launched their bold animal prints and trends for the SS23 collection, including fashionable zebra prints. They also showcased fascinating leopard prints. Leopard print shoes will also be trending.
If you want to experiment with your look and reveal your body in a more comfortable way, sheer fabric dresses are the ones you can choose. The New York Fashion Week had fashion designers showcase their sheer and mesh see-through garments with strategic layering for the 2023 collection. Sheer gowns in floral, jewel, and sparkly tones are going to rock the markets in 2023.
Metallics will be a hit this year as these sparkly and glittery tones add a futuristic touch to your overall look. You can go for metallic gowns, cami dresses, or coats to add some bling and glam to your look. These are perfect to flaunt at weddings, night outs, or cocktail parties. You can also carry metallic clutches or use metallic accessories.