National Whipped Cream Day 2023: Whip up these toothsome recipes
National Whipped Cream Day 2023: Whip up these toothsome recipes
Jan 05, 2023, 07:50 am
2 min read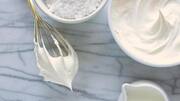 January 5 marks National Whipped Cream Day in the US. Today, we celebrate the existence of this white goodness that makes everything from shakes to desserts, a lot more fancy-schmancy. So to help you commemorate this 'creamy' occasion with a dose of deliciousness, here are five lip-smacking recipes using whipped cream that you must try today. Check them out!
Strawberry shortcake with whipped cream
Preheat your oven to 200 degrees Celsius. Prepare strawberry filling by combining strawberries and some sugar. Form a dough with milk, butter, flour, and sugar. Bake for about 10-12 minutes or until golden. Beat whipped cream using an electric mixer, until stiff peaks form. Once the cake is baked, cut it into slices. Fill in the strawberry filling, and top with whipped cream. Enjoy!
Irish cream coffee is quite easy to prepare and scores high on flavor. Begin with brewing your favorite coffee. Now lightly whip the cream so that it only foams up and doesn't peak. Once that's done, grab a large or tall coffee mug. In this, combine coffee, sugar, whiskey, and Irish cream. Layer it all with whipped cream and enjoy!
Begin by adding water, sugar, and cocoa powder in a saucepan. Place it over low flame and simmer until it's slightly thick. Pour in some chocolate sauce and stir well. To this, add vanilla extract and then turn off the heat. Once done, pour the concoction into a cup and top it all with whipped cream. Sip and enjoy!
Banana split is quite an easy-to-make decadent dessert. Begin by peeling bananas and splitting them lengthwise. Place them in a serving bowl and then put some scoops of your favorite ice cream between them. Now pour some whipped cream into a piping cone and top the bananas and ice creams with it. Garnish with nuts and chocolate syrup before you dig in.
Preheat your oven to 180 degrees Celsius. Whisk together flour, baking powder, and some salt, and keep it aside. Separately, beat some whipped cream until fluffy peaks form. To this, add eggs, vanilla extract, and sugar, followed by flour. Mix thoroughly and then pour this mixture into cupcake molds. Bake for 15 to 20 minutes. Once done, top it with whipped cream and serve.