Tonsillitis: Symptoms, causes, prevention, and treatment
Tonsillitis: Symptoms, causes, prevention, and treatment
Jan 19, 2023, 10:56 am
3 min read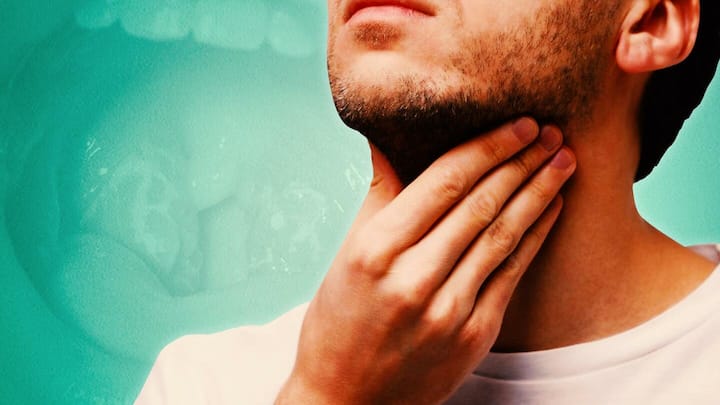 Tonsils are the first line of defense against bacteria and viruses entering the mouth. Tonsils are the lumps of lymphatic tissue in the back of your throat. When the tonsils get infected by bacteria or viruses, they become enlarged. It is a common disease among children and most of the time it clears up on its own. Read on to know more about it.
Here's what our expert says
Tonsillitis is the inflammation of the lymphoid tissues at the back of the throat known as the tonsils.
It can have a viral or bacterial origin and rarely in immunocompromised fungal etiology.
Its symptoms include sore throat, pain in swallowing, change in voice, and fever. Its treatment depends on the underlying cause.
Warm salt water gargles are the most useful home remedy to try.
What are the symptoms of tonsillitis?
The symptoms of tonsillitis can manifest as sore throat, difficulty or pain while swallowing, a scratchy-sounding voice, fever, and a stiff neck. You may also experience aches in your stomach, ears, and head, as the lymph nodes, in the neck get enlarged. If these symptoms sound similar to those of the common cold, it is because tonsillitis is often caused by the common cold.
Tonsils produce white blood cells that help your body combat bacteria and viruses that enter your body through your mouth and nose. Common colds or the influenza virus can trigger tonsillitis. Bacterial infections, typically a strain of bacteria called group A streptococcus bacteria, too can be a cause. Other strains of strep and other bacteria also may cause tonsillitis.
What preventive measures can be taken?
While you can't totally prevent tonsillitis, there are things you can do to reduce your risk: 1. The most effective way to prevent tonsillitis is by washing your hands, especially after sneezing or coughing. 2. Practice good overall hygiene, including oral hygiene. 3. Remember to replace your toothbrushes after the infection. 4. Avoid sharing food, drinking glasses, water bottles, or utensils.
Home remedies for tonsillitis
Gargle and rinse with lukewarm water. It can help soothe a sore throat and pain caused by tonsillitis. Drink warm beverages like tea or coffee to reduce discomfort. You may also apply ice on the sore throat area. Cold can be highly effective in treating pain, inflammation, and swelling. Lastly, use humidifiers, they can help relieve a sore throat if the air is dry.
Treatment for tonsillitis
Treatment of tonsillitis depends on whether the infection is viral or bacterial. Many cases of tonsillitis will heal on their own just as the common cold clears up on its own. Appropriate supportive care like plenty of rest, proper hydration, and medications for pain can be helpful. In case of chronic tonsil infection, your doctor might recommend a tonsillectomy.