Maharashtra: Ex-minister Anil Deshmukh released from jail after 1 year
Maharashtra: Ex-minister Anil Deshmukh released from jail after 1 year
Dec 28, 2022, 05:53 pm
3 min read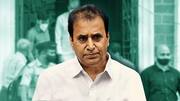 Anil Deshmukh, former home minister of Maharashtra, was released on Wednesday after spending almost 13 months in jail. He was arrested in a money laundering case in November 2021. Earlier this month, Deshmukh was granted bail by the Bombay High Court, which later put it on hold after the Central Bureau of Investigation (CBI) sought time to challenge the order in the Supreme Court.
Why does this story matter?
Deshmukh was initially arrested by the Enforcement Directorate (ED) in a money laundering case last year, and he had been in jail since.
Later, the CBI arrested him in April 2022 in the corruption case.
Deshmukh walks free as Bombay HC refuses to stay bail 
Deshmukh was released after the Bombay High Court refused to prolong the stay on a bail decision in a CBI-registered corruption case. Deshmukh (73) was lodged in Mumbai's Arthur Road jail on money laundering charges. Justice MS Karnik granted bail to the Nationalist Congress Party (NCP) leader on December 12 but put a freeze on it for 10 days at the CBI's request.
Was implicated in false case: Deshmukh
"I have full faith in the judiciary. The high court has observed that I was implicated in a false case," Deshmukh said outside the jail soon after his release. Per India TV, a special CBI court in Mumbai issued Deshmukh's released order. The release note was issued by special judge SM Menjoge, following the conclusion of the bail procedures.
What did Deshmukh's lawyer argue?
The CBI, according to Deshmukh's lawyers, was seeking to "overreach" the prior ruling of the HC, which had specified that no further extensions would be given under any circumstances. Except for the confession made by resigned police officer Sachin Waze, the CBI had no statements that suggested the NCP leader was involved, the high court had stated in its bail order.
Money laundering case against Deshmukh
In March last year, former Mumbai Police Commissioner Param Bir Singh accused Deshmukh, then Maharashtra home minister, of giving police officers a "target" of collecting Rs. 100 crore every month from Mumbai's restaurants and bars. Following this, the ED, in its case against Deshmukh, alleged that he collected Rs. 4.7 crore from different restaurants and bars through Waze, a dismissed assistant police inspector.
Waze was dismissed without departmental inquiry 
Last month, a special court granted bail to Waze in the ED case linked to Deshmukh. He was dismissed from service under Article 311 (2) (b) without a departmental inquiry. Known as an "encounter specialist," he is still in jail in cases relating to his alleged staging of a bomb threat near billionaire industrialist Mukesh Ambani's residence and Thane businessman Mansukh Hirani's murder.