BJP chief JP Nadda's tenure extended till 2024 LS polls
BJP chief JP Nadda's tenure extended till 2024 LS polls
Jan 17, 2023, 08:38 pm
3 min read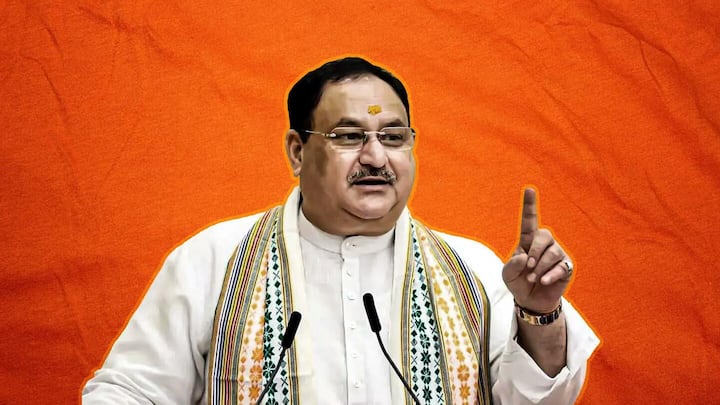 JP Nadda's tenure as the national president of the Bharatiya Janata Party (BJP) has been extended until June 2024. The BJP National Executive took the decision unanimously on Tuesday, and the announcement was made by Union Home Minister Amit Shah. Notably, Nadda's three-year tenure was to end on Friday (January 20) after he succeeded Shah as the party chief in 2020.
Why does this story matter?
Nadda's tenure extension comes at a time when the BJP is gearing up for Assembly elections in nine states and the 2024 Lok Sabha elections.
It has also been devising an election strategy for executive members to work on. It has set up task forces for reviewing various schemes to ensure better performance.
Nadda's leadership is expected to boost the campaign and election strategy.
Shah's praise for Nadda while making announcement
Announcing Nadda's tenure extension, Shah said, "Under Nadda's leadership, we had the highest strike rate in Bihar. The NDA won the majority in Maharashtra, won in Uttar Pradesh, and our numbers increased in West Bengal." "We also registered a landslide victory in Gujarat," he added. Shah expressed optimism about winning more seats in the 2024 LS polls under PM Narendra Modi and Nadda's leadership.
New challenges ahead of BJP president 
Nadda got the extension at a time when the BJP lost in two states—Himachal Pradesh Assembly polls and Delhi civic polls—although it recorded a landslide win in Gujarat and came to power in Maharashtra alongside its ally—the break-away faction of Shiv Sena. He will be expected to deliver in the upcoming elections in nine crucial states where the BJP wants to ensure a win.
Nadda emphasizes PM Modi's Panch Pran
The decision to extend Nadda's term was taken at the BJP National Executive meeting in Delhi, where he urged executive members to gear up for upcoming polls. He also emphasized Modi's Panch Pran (five pledges), which comprise the elimination of colonial remnants, taking pride in Indian culture, building a developed India, fostering national responsibility in all citizens, and unity in diversity, as per Mint.
JP Nadda—old workhorse rising to top ranks
Nadda is considered a trusted lieutenant of Modi and Shah. He has been associated with Akhil Bhartiya Vidyarthi Parishad (ABVP), the student wing of the BJP's ideological parent, the RSS. Having been elected to Himachal Pradesh Assembly in 1993, 1998, and 2007, Nadda entered national politics in 2010. He became the BJP's national general secretary when Nitin Gadkari became the BJP chief in 2009.