IIT Madras-ISRO collaborate to work on India's astronaut training program
IIT Madras-ISRO collaborate to work on India's astronaut training program
Feb 06, 2023, 07:40 pm
2 min read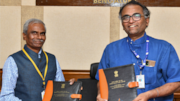 IIT Madras and ISRO's Human Space Flight Centre (HSFC) have collaborated to work on an astronaut training module for Indian Human Spaceflight Program (IHSP). The educational institute will use Augmented, Virtual, and Mixed Reality technologies to create the program. The training module will promote research and development and help HSFC utilize technologies created by the eXperiential Technology Innovation Centre (XTIC) at IIT Madras.
Why does this story matter?
IIT Madras and ISRO recently signed a Memorandum of Understanding (MoU) on the use of Extended Reality (XR) and other technologies in IHSP.
The XTIC, which was recently established at IIT Madras, will not only assist in the development of new XR technologies for IHSP but also provide related training to engineers of the ISRO's HSFC, involved in the program.
Everything you need to know about XTIC
The newly established XTIC at IIT Madras is a transdisciplinary center that helps start-ups and industries to dive into the field of AR, VR, MR, and haptic technology. The center provides services such as project support, knowledge sharing, and more. The Indian Human Spaceflight Programme (IHSP) will make use of XTIC's ecosystem for purposes including R&D in the field of XR, and training.
Possible outcomes of IIT Madras and HSFC's collaboration
According to the collaboration guidelines, HSFC would use advanced technologies for IHSP, developed at IIT Madras' eXperiential Technology Innovation Centre (XTIC). This may lead to the modeling and simulation of human physiology and space systems, outreach activities, visualization and optimization of design architecture, and better training for HSFC's engineers/scientists to help them develop their own XR systems.
XR can aid in simulating space environment: XTIC
Prof. M. Manivannan, Principle Investigator, XTIC described the key aspects of the collaboration stating that "XR Technologies has the potential to add value in many aspects of human spaceflight program specifically in shortening the design cycle and simulating the space environment. "We will start with developing models of physiological systems and design optimization studies," he added.
IIT Madras has a history of supporting ISRO's programs
Looking forward to IIT Madras and HSFC's collaboration, Dr. Umamaheswaran R., Director at HSFC said, "Space program always had linkages with academia and IIT Madras has a long history of contributing to ISRO's program including human spaceflight program."