China's economy grows 3% in 2022, second-lowest in nearly 50yrs
China's economy grows 3% in 2022, second-lowest in nearly 50yrs
Jan 17, 2023, 12:51 pm
3 min read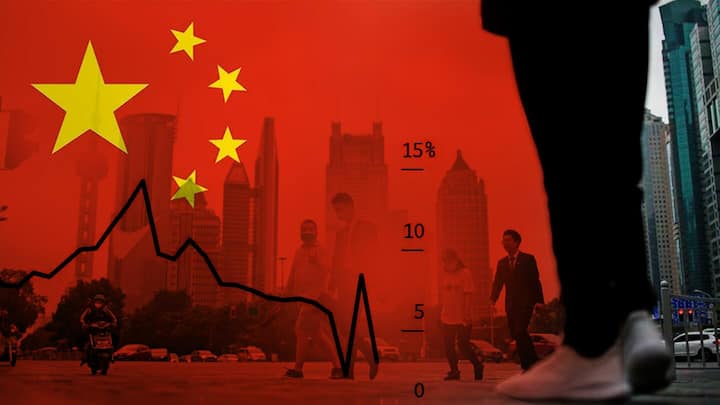 China's economy in 2022 grew at the second slowest rate in nearly 50 years, raising concerns about the impact of the downturn on the global market, AFP reported. According to official data, the country's economic growth rate in 2022 was 3.0%. Experts attribute the trend to lower exports amid a reduction in worldwide demand as well as strict COVID-19 restrictions that impeded economic activity.
Why does this story matter?
The year 2022 concluded with several challenges for the global economy.
The spike in COVID-19 infections in China and over 5% US Federal Reserve policy rate projection are expected to impact the global economy in 2023 severely.
Moreover, the trend in China is concerning, for the Asia-Pacific region traditionally relies on China. However, this situation might offer new opportunities for India.
China's economic growth much lower than target
According to reports, Beijing had set a growth target of 5.5% for 2022. However, last year's performance was nowhere close to that. Notably, the country's gross domestic product (GDP) increased by more than 8% in 2021. Meanwhile, its National Bureau of Statistics revealed that China's economy grew 2.9% year-on-year in the fourth quarter, down from 3.9% in the third quarter, according to AFP.
Slowdown attributed to COVID-19 restrictions, impact on exports
In 2022, China's economy took a severe hit that sent shockwaves globally. It also affected the supply chain and led to dwindling demand. Strict lockdowns, forced testing, and quarantine are reportedly the primary causes of the slump. They also resulted in the abrupt shutdown of factories and other production operations, affecting exports. Due to widespread protests, Beijing was forced to lift restrictions last month.
China's GDP may grow at 4.3% in 2023: World Bank
China's economy could grow 4.3% in 2023, as per the World Bank, which cut its 2023 growth projection this month from 5.2% predicted in June. As 2022 ended, China faced unprecedented difficulties. The 2022 performance marks China's weakest growth rate since a 1.6% contraction in 1976 when former Chinese premier Mao Zedong died. The statistics, however, excluded 2020 owing to the coronavirus pandemic.
IMF's warning about slowdown in 2023 
Earloer this month, the International Monetary Fund (IMF) Managing Director Kristalina Georgieva warned that in 2023 one-third of the world would be in recession, according to CBS News. She added that "the three big economies—the US, EU, and China—are all slowing down simultaneously." She attributed the slowdown in activity to the war in Ukraine, rising prices, higher interest rates, and COVID-19 in China.
Impact of COVID-19 on China's growth 
Out of the major economies, Georgieva picked China to have the toughest of times. She said that China's growth in 2022 is likely to be below or the same as global growth for the first time in 40 years. The "bushfire" of COVID-19 infections in the months ahead is likely to affect its economy and negatively impact both regional and global growth.