Ukraine starts withdrawing troops from Bakhmut as Russia inches closer
Ukraine starts withdrawing troops from Bakhmut as Russia inches closer
Mar 04, 2023, 07:02 pm
1 min read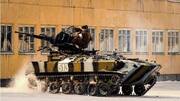 Ukraine has begun withdrawing its troops from the Bakhmut area as Russia inches closer to the city, according to Sky News. There is only one road out of Bakhmut that is under Ukrainian control, the report said, quoting the Russian private military company Wagner Group. According to Wagner, the army has surrounded the city and called on Ukrainian President Volodymyr Zelenskyy to abandon Bakhmut.
Kyiv considering leaving Bakhmut: Ukrainian official
Alexander Rodnyansky, an adviser to Zelenskyy, told CNN that Kyiv is considering leaving Bakhmut. The city is located in the Donetsk province, one of the four provinces that Russia first attacked. Now Moscow owns half of it. To control the remaining half, the Russian army needs to win Bakhmut, which will clear the way for the big cities of Ukraine, as per WION.