Review: 'Almost Pyaar With DJ Mohabbat' lacks 'Anurag Kashyap' element
Review: 'Almost Pyaar With DJ Mohabbat' lacks 'Anurag Kashyap' element
Feb 03, 2023, 04:19 pm
3 min read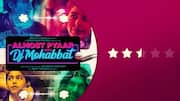 Anurag Kashyap is looked up as one of the finest filmmakers. Whether it's a film franchise like Gangs of Wasseypur or a romantic drama like Manmarziyaan, Kashyap has entertained with many sharp projects. However, his latest offering, Almost Pyaar With DJ Mohabbat, is one that doesn't only lose its plot but also is a modern-day take on already-seen tragic love stories. Read our review.
It's a film about two parallel love stories - both featuring Alaya F as Amrita/Ayesha and Karan Mehta as Yacoob/Harmeet. While one story is set in Dalhousie, the other is in London. Neither of the stories is something you haven't seen before. What's common between these love stories, apart from the actors, is that they both have a tragic end.
Kashyap's hard attempt at addressing too many issues
From "love jihad" to same-sex marriage, patriarchy, orthodox parents, and dysfunctional families, Kashyap's film has all these issues. But did he deliver it right? No. In an attempt to address too many issues, Kashyap has lost the grip on leaving an impact on the audience. Having watched his past path-breaking films, Kashyap has fairly disappointed with this one.
Amit Trivedi's music is Gen-Z relatable, but not his best 
Amit Trivedi rose to fame with Kashyap's Dev.D. He also crooned the music for Manmarziyaan. Although Trivedi's songs are something that the young generation would connect with, his work here lacks the charm that Trivedi brings to the table with his music usually. While Emosanal Attyachaar, Nayan Tarse, Daryaa, and Dhyaanchand are still loved, Netflix & Chill and Ghanghor Connection aren't catchy enough.
Mehta makes a promising debut 
Almost Pyaar With DJ Mohabbat marks the acting debut of Mehta. He has played two contrasting characters - one, who is outgoing and has child-like innocence, and the other, a reserved and ambitious young man. He has nicely essayed both the characters but what is a miss with us is the annoying laughter of Yacoob and the aggression in Harmeet.
Alaya shows acting prowess while going glam to de-glam 
A similarity in both of Alaya's characters is that they are young outgoing girls. However, what differentiates them is that while Amrita is a de-glammed Dalhousie girl, Ayesha's got the oomph factor. Alaya's glam-to-de-glam transition is as smooth as butter. Not to forget, she does an excellent job with her dialogue delivery, expressions, and breathing life into her characters.
Vicky Kaushal's cameo saves the boat
Kashyap has connected this movie with his 2018 film Manmarziyaan by bringing back Vicky Kaushal as DJ Mohabbat. He's also the highlight of the movie, and so are his words of wisdom on love. His dialogues such as "Mohabbat tab hai jab tu hai, warna toh kya hi hai (Love exists when you exist, nothing matters otherwise)" are worthy of listening to.
Should you buy tickets for the film? 
If you are a movie buff who loves to watch a (read: any) film in the theater, you must buy your tickets. But if you are the other kind, not willing to watch anything or everything, then I would suggest that you wait for the film's OTT release. Verdict: 2.5 stars/5 stars for this movie, of which, the half star is for Alaya.