#NewsBytesExplainer: Decoding Emmy Awards—history, importance, 2022 winners
#NewsBytesExplainer: Decoding Emmy Awards—history, importance, 2022 winners
Jan 19, 2023, 04:10 am
2 min read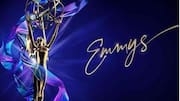 The annual Emmy Awards—held in the US—honor the immense contribution made by television artists in multiple categories. Considered one of the most prestigious awards in the entertainment industry, the awards honor and celebrate the who's of the TV fraternity and are the benchmark of creative excellence. How did they become so important and when did they exactly start? Dive right in.
The first awards were handed out in 1949
Each year, the National Academy of Television Arts and Sciences presents the awards and only the members of the Academy are allowed to vote to eventually decide the winners. Per Britannica, the National Academy was formed in 1946 and the first Emmys were handed out in 1949. Back then, there were only six categories! Other categories were gradually added in the subsequent years.
These are the major categories artists compete for
The Emmys recognize contributions to multiple categories, such as drama series, comedy series, special drama, and limited series, among several others. In addition to these, there is a tough fight for best actor and actress, supporting actor and actress, best director, and best writer, too. There are also awards for special achievements, creative arts, outstanding individual achievement in animation, sound editing, animated program, among others.
This is the story behind the statuette
Per the Emmys website, "Academy members in 1948 selected a design that Louis McManus created using his wife as a model." "The statuette of a winged woman holding an atom has since become the symbol of the Television Academy's goal of supporting and uplifting the arts and science of television: The wings represent the muse of art; the atom the electron of science."
Check the major highlights from the 74th Emmy Awards
Last year, the Emmys were announced in September. Succession and The White Lotus emerged as the biggest winners. The former bagged an Emmy for Best Drama Series while the latter won Best Comedy Series. Moreover, Zendaya (Euphoria) and Jean Smart (Hacks) repeated their wins for Best Actress (Drama) and Best Actress (Comedy Series). Zendaya also made history by becoming the youngest two-time Emmy winner.