Hollywood movies that explore dark side of social media
Hollywood movies that explore dark side of social media
Jan 19, 2023, 02:10 am
2 min read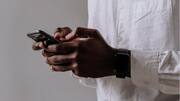 You wake up, and you scroll. You eat, and you scroll. You want to sleep but, you scroll! Life has become as compact as a 1TB hard disc with HD photos, and virtual friends who know you by your Instagram bio. Here is a list of movies that will cast light on the future of technology, and its impact on us. Scroll through!
It is ironic how social media claims to bring the world closer to you when in reality, it somehow disconnects you from your surroundings. The one-hour and 55-minute-long movie highlights the shocking reality of technology that often hampers our relationships with each other and potentially puts lives in danger. Interweaving multiple storylines, this psychological thriller features actor Jason Bateman.
Have you ever felt like being watched? There is no denying that mass surveillance has crawled its way into our personal lives, and there is no stopping it! Snowden, a brilliantly curated biopic, is sure to make you uncomfortable when, like the character in the movie, you will discover how colossal amounts of data are taken illegally from you.
'Ingrid Goes West' (2017)
Fitting the frame of the current social media scenario, the movie Ingrid Goes West is a dark comedy, set against the backdrop of obsessing over social media influencers. Ingrid's obsession with stalking influencers leads her to Los Angeles where she meets Taylor and they become friends. Taylor soon realizes that this is not coincidental. It is interesting to see how things escalate quickly thereafter.
The 13-year-old Kayla is living two lives. One, where she is awkward and supremely anxious, and another, where she pretends to have it all together. Kayla's YouTube channel is nothing but weaving stories of lies about herself, whereas, in reality, she struggles to find her place in the world. This movie is heavily based on the life of teenagers and an authentic experience.
'The Social Dilemma' (2020)
This docu-drama made an instant buzz among the masses and held the mirror to society on the toxicity of social media on humanity. The revelations made in the series by some of the most prominent names in the industry made this docu-drama extremely impactful. If you haven't still watched it, then make sure to add it to the list for this weekend.