Justice Chandrachud takes oath as 50th Chief Justice of India
Justice Chandrachud takes oath as 50th Chief Justice of India
Nov 09, 2022, 10:59 am
3 min read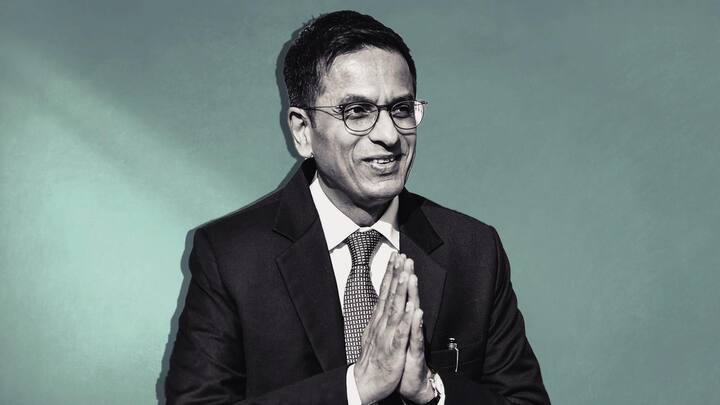 Justice DY Chandrachud was on Wednesday sworn in as the 50th Chief Justice of India (CJI). President Droupadi Murmu administered the oath of office to Justice Chandrachud at Rashtrapati Bhavan. The ceremony was attended by Vice President Jagdeep Dhankhar and several union ministers besides people from the legal fraternity. His predecessor, Justice UU Lalit, was also be present on the occasion.
Why does this story matter?
His appointment follows the recommendations of the outgoing CJI Lalit.
Several key matters are expected to come up for hearing by the Supreme Court during Justice Chandrachud's tenure as Chief Justice.
Notably, he will serve as the CJI for two years before retiring on November 10, 2024, allowing him plenty of opportunity to decide on some of the most critical issues.
Expectations from Justice Chandrachud as CJI
According to reports, Justice Chandrachud may concentrate on making the court system more accessible by implementing further reforms. He would be required to replace openings at the High Courts and the Supreme Court as president of the Collegium. During his term, he would be in charge of nominating 17 justices to the Supreme Court, which presently has only half of the authorized sanctioned strength.
Several high-profile issues, including a plea challenging the repeal of Article 370, and the constitutionality of the Citizenship Amendment Act among others are some of the challenges he faces. The verdict may have significant political repercussions. Justice Chandrachud also faces a number of challenges on the judicial front, such as a backlog of cases, inadequate infrastructure, and a delay in the justice system.
Justice Chandrachud will serve two-year term
Justice Chandrachud's predecessor outgoing CJI Lalit recommended him as successor after official communication from the Union Law Ministry asking him to do so. CJI Lalit retired on November 8, following which Justice Chandrachud took over as the 50th Chief Justice of India. He will have a two-year term and will be in office until November 10, 2024, when he is retires.
Who is Justice Chandrachud?
The senior-most judge in the SC, Justice Chandrachud is the son of the longest-serving CJI, YV Chandrachud (1978-1985). Previously, Chandrachud served as the Additional Solicitor General of India (1999-2000), the Chief Justice of the Allahabad High Court (2013-16), and was also a senior advocate at the Bombay High Court. He was also the Executive Chairman of the National Legal Services Authority, until recently.
Known for his liberal, progressive rulings
Chandrachud is known for his liberal and progressive rulings, the most recent of which upheld unmarried women's abortion rights last month. He also served on the SC's constitution benches that decriminalized consensual homosexuality, recognized privacy as a fundamental right under Article 21, and decriminalized adultery. He was also part of the top court bench that delivered the verdict on the Ayodhya Ramjanambhoomi-Babri Masjid case.