Gone in 9 seconds: Noida's Supertech twin towers demolished
Gone in 9 seconds: Noida's Supertech twin towers demolished
Written by
Priyali Dhingra
Aug 28, 2022, 10:20 am
3 min read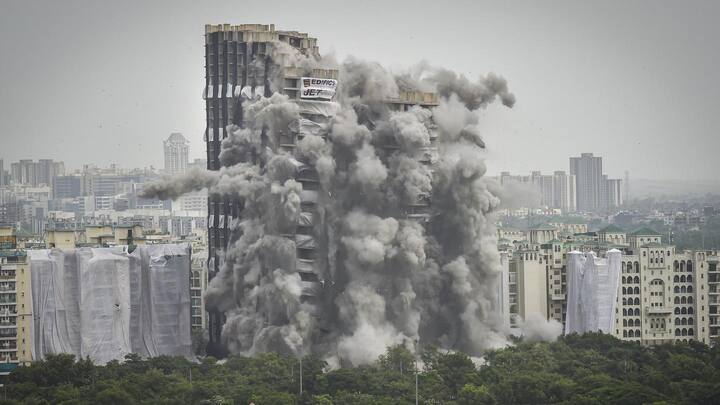 In the first such exercise in India, Noida's infamous Supertech twin towers were turned into piles of rubble after a demolition exercise at 2:30 pm on Sunday. In the much-anticipated demolition, 3,700 kg of explosives brought down these Noida towers within nine seconds. Over 5,000 residents were vacated from neighboring buildings on Sunday morning amid heavy security deployment. Here's more.
Why does this story matter?
On February 7, 2022, a Supreme Court bench of justices DY Chandrachud and Surya Kant ordered Supertech and Edifice Engineering to enforce the top court's August 31, 2021 order to demolish the society's Apex and Ceyane towers for not complying with the law.
It had also ordered that home buyers be repaid their entire deposit plus 12% interest from the time of purchase.
Towers brought down with 'waterfall' method
The two towers- Apex with 32 stories and Ceyane with 29 stories- stood at about 103 meters, making them taller than the Qutub Minar. The demolition company working with Noida authorities, Edifice Engineering, brought down the towers through a 'waterfall' method. About 3,700 kg of explosives inserted in 7,000 holes brought the towers straight down in merely nine seconds.
Watch: Supertech twin towers demolished
Residents evacuated, Noida Expressway temporarily shut
About 5,000 residents of neighboring societies, Emerald Court and ATS Village, were evacuated before the blast, while NGOs rescued stray animals from the area. The residents have been accorded temporary accommodation at the Parsvnath Prestige Residential Complex in Sector 93. The Noida-Greater Noida Expressway was shut for public use between 2:15 pm to 2:45 pm.
Demolition costed Rs. 20 crore
While the buildings was brought down in nine seconds, it took 12 minutes for the dust to settle. The exercise is expected to create 55,000 tonnes of debris which might take three months to clear. There were also fears that demolition might trigger vibrations of 30mm per second in a 30-meter radius. The cost of entire exercise was estimated at Rs. 20 crores.
What other preparations were made?
Additionally, the authorities placed ambulances and smog guns close to the demolition site. A special dust machine was also installed to measure pollution levels after the demolition. The police established a green corridor to attend to any emergency situations, and 560 police personnel oversaw the demolition. The long-awaited demolition came after nine years of legal battles by the residents.
Background behind SC order
Supertech filed a request with the SC in early May, citing a letter from Edifice in which it mentioned safety concerns for seeking a three-month extension. In February, Edifice requested four and a half months to prepare the twin towers for demolition, but the Noida Authority refused to listen to their plea and set the demolition date for May 22.
What does it mean for investors?
Those who had bought properties at the Supertech project are eligible to receive a full refund along with 12% interest, computed from the date of booking. Reportedly, more than 250 home buyers are yet to get their dues. The SC had said it would send the company's officials to jail over non-compliance if it misses the said deadline.