A luxurious resort for rabbits? You heard that right!
A luxurious resort for rabbits? You heard that right!
Jan 31, 2023, 06:00 pm
3 min read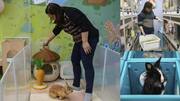 While the world has a fine share of animal shelters for dogs and cats, there are not many places where we can accommodate our other furry friends like rabbits, especially when we have to travel. However, probably a first of its kind, there is a luxurious resort in Hong Kong that is exclusively for these bunnies! Might we see something similar in India soon?
Say hello to Bunny Style, a luxury resort for rabbits
Bunny Style is a swanky resort in Hong Kong where your rabbits can have a time of their life. The rabbits here are taken proper care of, which is why their pet parents can easily drop them off here and be carefree. It is not an ordinary shelter house where the rabbits only sleep but a place where they have fun.
Meet the brainchild behind this unique resort, Donna Li
Bunny Style is owned by Donna Li, who has two rabbits of her own. She started this project back in June 2022 and began only with a playroom for rabbits. Soon after COVID-19 restrictions were lifted in September in Hong Kong, she felt the need to offer boarding facilities. And guess what? Her place was fully booked over Christmas Day!
Bunnies enjoy parties, meals, spa treatments, and more here
In addition to the comfort of a good night's sleep and afternoon naps, her rabbit residents are spoiled with wholesome food, parties, playtime, spa treatments and so much more. They can freely scamper around the play area, climb castles made of wood, or pass through tunnels with their furry mates. Regular exercise sessions are also scheduled to keep them fit and active.
So much pampering and fun at only 15HKD per night
Wondering what is the tariff of this one-of-a-kind resort in Hong Kong? Well, it is 15 HKD (Hong Kong Dollars) per night. The price includes everything from meals to recreational activities. However, if you want your bunny to feel more special, you can book them a beauty treatment or buy them a special vegetable cake from their exhaustive menu at an additional cost.
Pet parents can check on their bunnies via live stream
What makes Bunny Style a more sought-after destination for rabbit care is the fact that pet parents can watch their rabbits enjoying themselves through a live stream. "I think rabbits understand what people say. They can sense whether we are being nice to them and look after them well," WION quoted Li, who also said that she talks to them while caring for them.