5 myths about meditation you should stop believing right away
5 myths about meditation you should stop believing right away
Jan 31, 2023, 05:39 pm
3 min read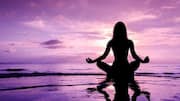 Meditation is a godsend practice to release stress and chronic pain. Today, it has become hugely revered and recommended to everyone young and old to maintain their mental health. Despite its popularity, multiple misconceptions about it keep circulating on the internet. Let not these five myths about meditation hinder your way toward making it a lifestyle choice.
Myth 1: Meditation can only be done while sitting
While yes, most people prefer sitting on the floor or on furniture to practice meditation, it is not the only way to do it. You can meditate even while walking, and achieve a mindful state. Many practitioners around the world participate in walking meditations, hiking meditations, etc. Additionally, you can lie on a couch or bed to meditate as well.
Myth 2: Meditation is all and only about controlling thoughts
A word like 'control' holds zero meaning when practicing meditation. During a meditation session, thoughts arrive without invitation and it is normal to have the mind filled with all sorts of them. The fact is that you don't control them by craving good thoughts and avoiding the bad ones. Instead, you become aware of them and transcend into a silent space within.
Myth 3: Meditation is about running away from problems
Many believe that meditation is a way to escape problems or find temporary relief from them. However, that is not true. On the contrary, it helps you to face your problems and embrace their existence with a smile. When you arrive in a silent zone deep within yourself through meditation, you develop the ability to accept situations and take conscious actions in their regard.
Myth 4: It takes years of practice to attain benefits
The benefits of meditation can be both instant and long-term. You can attain its benefits right when you do it for the first time and even when you are 100 sessions old. While yes, significant changes don't happen overnight, you may feel more relaxed, active, peaceful, and clear immediately after finishing a meditation session. This has been backed by various studies around the world.
Myth 5: Meditation is time-consuming, monotonous, difficult, and sleep-inducing
Meditation is not time-consuming. Instead, it gives you more time at hand as it clears your mind and helps you work smarter with your to-do list. Additionally, it is pretty easy and interesting to do as it involves various body sensations to work around. Also, it is not soporific when practicing it but can easily and effectively cater to a good night's sleep.