Not familiar with BBC's Modi documentary, but shared values: US
Not familiar with BBC's Modi documentary, but shared values: US
Jan 24, 2023, 11:58 am
3 min read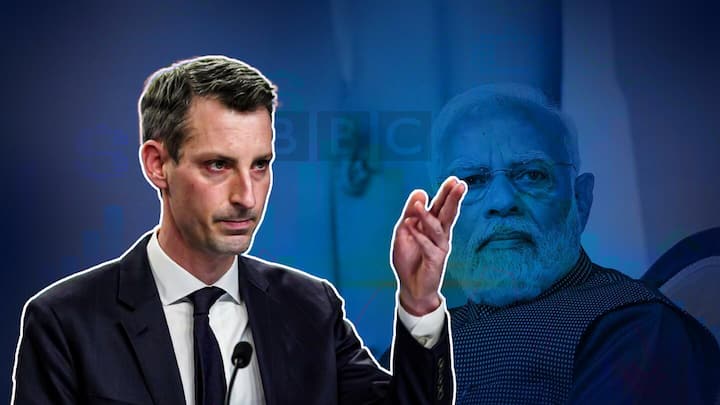 US State Department spokesperson Ned Price said he was unaware of the controversial BBC docu-series on Prime Minister Narendra Modi, while addressing a press briefing on Monday. He, however, added that he was familiar with the shared values of India and the US as "thriving and vibrant democracies." Some speculated the statement hinted at the US's support for PM Modi against the documentary.
Why does this story matter?
This comes after UK Prime Minister Rishi Sunak defended Modi and distanced himself from BBC's India: The Modi Question, which is reportedly based on an unpublished report by the UK government investigating Modi's role in the 2002 Gujarat riots.
In view of Modi's alleged failure to prevent the riots, the UK and the US imposed a de facto travel ban on him for years.
Looking to bolster ties between India, US: Price
Replying to a question by a Pakistani journalist regarding the documentary, Price said India and the US share an "exceptionally deep partnership" and have people-to-people ties between both countries. He said the United States aimed at strengthening the elements which bind both countries. Following in the footsteps of the UK government, the Joe Biden-led government has reportedly distanced itself from the BBC Panorama program.
Centre banned documentary; ordered YouTube, Twitter to remove content
Meanwhile, the Indian government banned the documentary after its release, citing emergency clauses, terming it colonial propaganda pushing a "discredited narrative." It ordered YouTube to remove the documentary and block further uploads while directing Twitter to block over 50 tweets sharing its link. The move triggered a row as the Opposition decried "censorship." However, it was reportedly screened at several places defying the ban.
Modi was Gujarat's CM during riots
The documentary reportedly delves into PM Modi's approach toward Muslims, the country's largest religious minority. Notably, Modi was the chief minister of Gujarat when the communal riots erupted in 2002 after a mob reportedly torched a train near Godhra Railway Station, burning 59 Hindu pilgrims alive. The incident was blamed on Muslims, and the subsequent carnage claimed nearly 1,050 lives, as per official figures.
Report says Modi prevented police from containing violence
PM Modi has been dogged by allegations of deliberate inaction to prevent the 2002 riots, which the BJP leader has denied. The unpublished UK inquiry report claims he prevented the police from containing the targeted violence against Muslims, said reports. The documentary reportedly showed the violence was planned by the Vishwa Hindu Parishad (VHP), an affiliate of the Rashtriya Swayamsevak Sangh (RSS)—BJP's ideological parent.