UK: PM Rishi Sunak fined for not wearing seatbelt; apologizes
UK: PM Rishi Sunak fined for not wearing seatbelt; apologizes
Jan 21, 2023, 01:47 pm
3 min read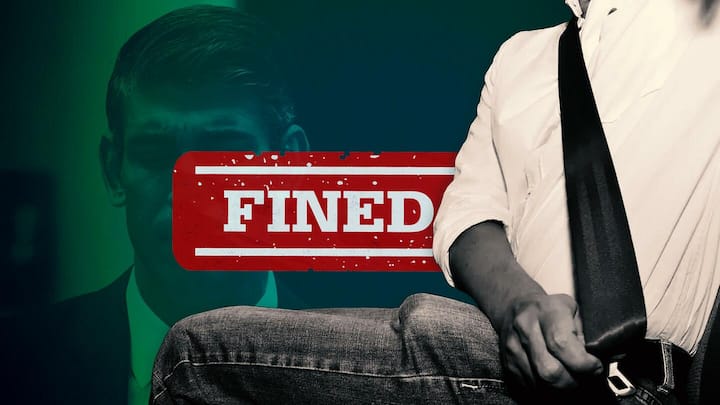 The United Kingdom police on Friday fined Prime Minister Rishi Sunak for riding in a car without a seatbelt, BBC reported. He has reportedly been fined £50 for not wearing a seatbelt in a moving car while filming a social media video. Sunak has, meanwhile, apologized for the act, terming it a "brief error of judgment," and said he would pay the fine.
Why does this story matter?
This is the second penalty notice Sunak received from the police. Last year, he violated the COVID-19 lockdown regulations, along with former PM Boris Johnson.
Sunak has become the second UK PM to break the law this way—after Johnson—attracting sharp criticism.
This comes as another distraction for him after the Conservative Party performed poorly in recent opinion polls ahead of the January 2025 elections.
Lancashire Police issues Sunak conditional offer
In their initial announcement, the police in Lancashire—where Sunak's car was at the time of the incident—didn't name him. They did, however, reveal his age and residential details. They issued a conditional "fixed penalty" offer to a 42-year-old man from London after a social media video showed him without a seatbelt in a car, they said. Sunak has to pay a £50 fine now.
Lancashire Police confirmed incident on Twitter
Following the circulation of a video on social media showing an individual failing to wear a seat belt while a passenger in a moving car in Lancashire we have today (Friday, Jan 20) issued a 42-year-old man from London with a conditional offer of fixed penalty. pic.twitter.com/i2VJkFL2oL

— Lancashire Police (@LancsPolice) January 20, 2023
Provision of fine under 'fixed penalty' offer
The "fixed penalty" offer indicates the person punished has the option to pay the fine and accept tacitly they are guilty within 28 days. In exchange, they pay less than the maximum fine and avoid going to court over the case. Passengers who fail to use a seatbelt face a £100 fine or a £500 penalty if the matter reaches a court, BBC reported.
Sunak apologizes after the incident
Sunak did not wear a seatbelt while reportedly filming a video, for the promotion of his projects, in the rear seat of his car on Thursday. After the video went viral and prompted criticism, he apologized, terming it a "brief error of judgment." "He fully accepts the mistake and apologizes about it," Sunak's spokesperson said, adding the PM has decided to pay the fine.
Opposition reacts over PM Sunak's violation 
Opposition lawmakers were also outraged by the whole episode. Sunak, according to Labour Party Deputy Leader Angela Rayner, is a "complete liability." However, Scott Benton, a Conservative member of parliament from Lancashire, termed the allegations politically motivated and expressed confidence in the Lancashire Police. He appreciated the police's efforts but said they should focus on investigating serious crimes and violations in his constituency.
'Partygate' controversy over COVID-19 norm violation
Sunak was one of the numerous leaders, including former PM Johnson, who were issued a fixed penalty notice in April 2022 for breaking the social distancing rules amid the COVID-19 pandemic by attending Johnson's birthday party at 10 Downing Street in June 2020. Johnson departed in July as a result of a series of scandals, including the aforementioned incident, which was dubbed the "partygate."