Akshay Kumar to return as Sooryavanshi in 'Singham Again'
Akshay Kumar to return as Sooryavanshi in 'Singham Again'
Jan 18, 2023, 11:57 am
2 min read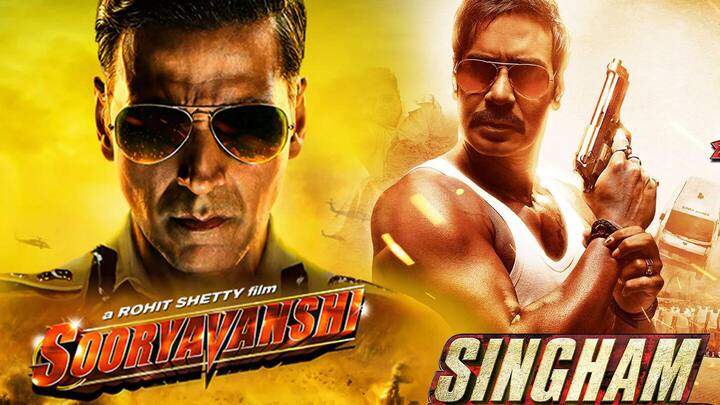 Rohit Shetty's cop universe is prepared to woo audiences once again! The next film in his high-octane action thriller universe is Singham Again, which will be headlined by his longtime collaborator and close friend Ajay Devgn. And now, it has been confirmed that Akshay Kumar will reprise his role as Sooryavanshi in Singham Again! Earlier, Devgn, too, had appeared in a cameo in Sooryavanshi.
Why does this story matter?
Rohit Shetty's cop universe includes Devgn's Singham franchise, Ranveer Singh's Simmba, and Kumar's Sooryavanshi.
They have been commercially successful and have brought glory to the box office, especially Sooryavanshi, a blockbuster that took the box office by storm post-pandemic.
Sooryavanshi's climax, in addition to featuring Devgn's cameo, also featured a special appearance by Singh, thus implying that the stories will crisscross with each other.
'Singham Again' likely to feature both Kumar and Singh
A source confirmed the news to Bollywood Hungama, "It is an entire cop universe, and like the Marvel Universe where film featured cameos by other members, Singham Again will also feature cameos." "Like in Simmba where both Ajay and Akshay made cameos, albeit in the post-credits, and in Sooryavanshi where Ranveer and Ajay were seen, Singham Again will also feature Akshay and Ranveer."
Will these films feature a common climax, too?
Shedding light on the sprawling cop universe, the source further added, "These films [will] coincide with each other [and] all three will feature in each other's films." Addressing the possibility of a "common climax," the source added, "There is still time to get there, but for sure there will be something grand to complete the cop universe saga when it does happen."
Meanwhile, here's all we know about 'Singham Again'
Earlier this month, Devgn shared that he had heard the script and called it "fire." Singham Again will also star Deepika Padukone as the first female cop of the universe, Lady Singham. The film will possibly go on floors in April and mark Devgn-Shetty's 11th collaboration. Shetty's recent film Cirkus was a box office dud, and Singham Again may bring things back on track.