#NewsBytesExplainer: Before 'Pathaan,' let's understand Yash Raj Films's spy-thriller universe
#NewsBytesExplainer: Before 'Pathaan,' let's understand Yash Raj Films's spy-thriller universe
Jan 20, 2023, 01:26 pm
3 min read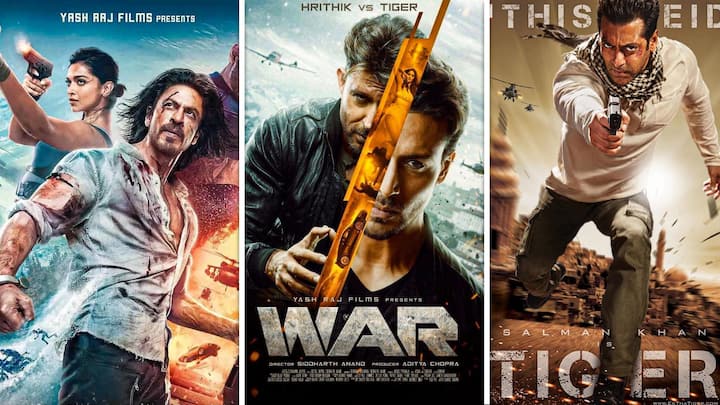 We are only days away from Shah Rukh Khan's comeback! His hugely anticipated spy thriller and his career's "first out-and-out actioner" Pathaan is all set to knock on the theaters on January 25 (Wednesday). Pathaan is a part of Yash Raj Films's ambitious spy-thriller universe, which includes Ek Tha Tiger, Tiger Zinda Hai, and War. Want to understand the universe better? Dive in.
The seeds of this universe were sown through Salman Khan-Katrina Kaif-Girish Karnad starrer Ek Tha Tiger in 2012, which presented Salman as an R&AW agent who travels all over the world while working on covert missions. He falls for Zoya, an ISI agent, and the duo decides to move to Austria to build a life for themselves, away from the deadly missions.
'Salman mania' made 'Tiger Zinda Hai' another blockbuster hit
The blockbuster success of Ek Tha Tiger was followed up by Tiger Zinda Hai in 2017 which shed further light on Zoya-Tiger's relationship. Inspired by true events, it revolved around a rescue mission to save hundreds of nurses who were held hostage in Iraq. Directed by Ali Abbas Zafar, it garnered stupendous critical and commercial acclaim, particularly for the story and the action sequences.
'War' was the most recent addition to the list
The most recent addition to the spy-thriller universe, Hrithik Roshan-Tiger Shroff's 2019 film War was another money-spinner, one that was known for its picturesque locations, dance numbers, and, of course, high-octane action stunts. It featured a supporting cast of Vaani Kapoor and Ashutosh Rana. It was directed by Siddharth Anand, who has now also helmed Pathaan. It is streaming on Amazon Prime Video.
What are the common aspects of these films?
All the spy-thriller movies have a common thread running through them—they narrate the story of meticulously trained men who put their lives on the line for India. Barring War, the other two flicks also had meaty roles for the female protagonist—a welcome change considering women are often reduced to run-of-the-mill roles. Deepika Padukone in Pathaan, too, is expected to have much to chew on.
The unreleased 'Tiger 3' belongs to the same universe
SRK's Pathaan will carry forward the legacy and he will play the role of R&AW agent Feroz Pathaan. Salman's upcoming film Tiger 3—directed by Maneesh Sharma—also belongs to the same spy thriller universe. These movies will be a double treat for the viewers since Salman will feature in a cameo in Pathaan and SRK will return the gesture in Tiger 3. Bring it on!