Tamil Nadu vs Tamizhgam: Governor Ravi's Pongal invite triggers controversy
Tamil Nadu vs Tamizhgam: Governor Ravi's Pongal invite triggers controversy
Jan 10, 2023, 06:56 pm
3 min read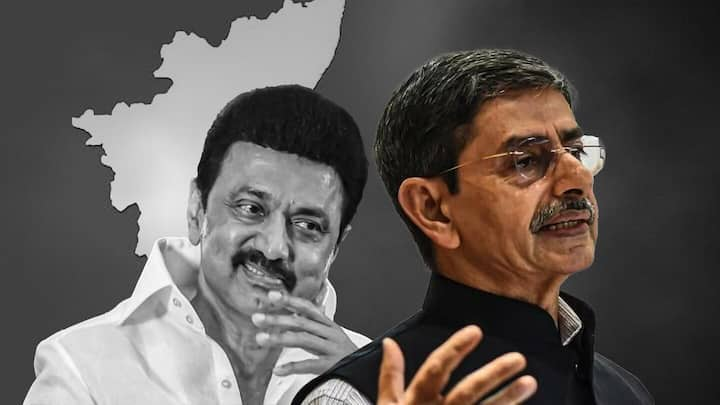 Tamil Nadu Governor RN Ravi sparked anger on Monday by using the word Tamizhgam for Tamil Nadu in his Pongal invitation cards. Outrage over the move, the state's ruling Dravida Munnetra Kazhagam (DMK) government demanded his resignation. Earlier, the governor remarked on a program that Tamizhgam was a more acceptable name for Tamil Nadu—which infuriated both the ruling DMK and the opposition AIADMK.
Why does this story matter?
Tamil Nadu's ruling Secular Progressive Alliance (SPA), led by the DMK, is at loggerheads with the governor over a number of issues.
In November, the SPA wrote to President Draupadi Murmu asking her to sack Ravi, alleging that he was instigating communal hatred and obstructing the government.
It accused Ravi of acting as a puppet of the Bharatiya Janata Party (BJP)-ruled central government.
The Pongal invitation sent to VIPs and senior government figures from the governor's office referred to him as 'Tamizhaga Aalunar' or 'the Governor of Tamizhagam'. The invitations issued by the Raj Bhavan also bore the emblem of the Union Government instead of the emblem of the Tamil Nadu government which has been the practice in the past.
Tamil Nadu emblems avoided by Raj Bhavan: CPM MP
Communist Party of India-Marxist (CPIM) MP MP Su Venkatesan shared the invitation on Twitter. He said that there were differences between the invitation sent last year and now and alleged that the Tamil Nadu emblem has been ignored by Raj Bhavan. Notably, the governor and his wife are scheduled to host the 'Pongal Peruvizha (festival)' event on January 12 at the Raj Bhavan.
Copy of invitation shared by CPM MP on Twitter 
ஆளுநர் அழைப்பிதழ்

கடந்த முறை வந்த அழைப்பிதழில் தமிழ்நாடு அரசின் இலட்சினை இருந்தது. இந்த முறை வந்துள்ள அழைப்பிதழில் மூன்று இடங்களிலும் இந்திய அரசின் இலட்சினை மட்டுமே இருக்கிறது.

நமது இலட்சினையில் தமிழ்நாடு என்று எழுதப்பட்டுள்ளதால் அதனைப் பயன்படுத்த மறுத்துள்ளார்.1/2#தமிழ்நாடு pic.twitter.com/HYsiUZgQHX

— Su Venkatesan MP (@SuVe4Madurai) January 10, 2023
How did ruling DMK react?
The Governor also came under attack from the ruling party DMK and its supporters over the usage of Tamizhagam in the Pongal invitation. They said that the Governor adopted a different name to advance the goals of the opposition BJP and Rashtriya Swayamsevak Sangh (RSS). According to DMK leader TR Balu, the Governor's claims are factually wrong and possibly harmful.
'Get Out Ravi' posters surface in Chennai 
Posters reading #GetOutRavi have been put up in several areas of Chennai as the dispute escalates between the Tamil Nadu government and the governor. Through these posters, a demand has been made to remove the governor. It also has photos of the CM MK Stalin and his minster son Udhayanidhi Stalin. Earlier #GetOutRavi was also trending on Twitter while DMK workers burnt his effigy.
TN Governor Ravi walks out of Assembly amid DMK's objection
Governor Ravi walked out of the State Assembly on Monday after CM Stalin moved a resolution to record only the former's original speech prepared by the state government. Stalin objected to Ravi skipping parts of the speech prepared by the government, which the latter approved two days ago, for the first day of the Assembly's maiden session this year.