Top features of Audi Activesphere: From AR to transforming design
Top features of Audi Activesphere: From AR to transforming design
Jan 30, 2023, 05:25 am
2 min read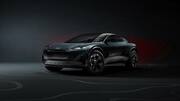 German luxury carmaker Audi has taken the wraps off the Activesphere concept at the "Celebration of Progress" event in Berlin. The EV flaunts a coupe-like crossover design and comes loaded with a lot of unique features such as augmented reality headsets for a virtual interface, and a transforming rear section. Here's our pick of the top features of the vehicle.
Why does this story matter?
Audi has been developing the special 'Sphere' family of vehicles, which includes the skysphere, grandsphere, urbansphere, and Activesphere concepts. They showcase the future of Battery Electric Vehicles (BEVs) from the brand.
As per the automaker, the recently showcased Activesphere concept focuses on people looking for good offroad capabilities to match their active lifestyle needs.
It features the company's latest-generation "Quattro" all-wheel-drive system.
An augmented reality interface
Unlike regular cars, the Audi Activesphere does not get a physical instrument cluster or infotainment panel. Instead, it gets a virtual interactive interface using the brand's augmented reality headsets. These headsets are designed to cover the driver's entire field of vision. They use cameras and LiDAR sensors to create virtual touchpoints for controlling various functions of the electric SUV.
A transforming rear section
The Audi Activesphere, much like its sibling the skysphere, features a transforming design. The rear end of the e-SUV gets a movable glass panel with a motorized bulkhead and tailgate. It converts the vehicle into a pick-up truck-like body style with a large flatbed capable of carrying multiple e-bikes, full-size golf kits, or other heavy luggage with ease.
A collapsible steering wheel
While the Audi Activesphere is capable of fully autonomous driving, some situations demand human interventions. For such tricky conditions, the automaker has equipped the concept e-SUV with a collapsible steering wheel. When manual driving mode is engaged via a selector knob on the driver's door, the flush-fitted dashboard reveals a fully-operational electrically-assisted steering wheel, cleverly concealed underneath the front panel.
A capable electric powertrain
The Audi Activesphere concept draws power from dual electric motors that are paired with a large 100kWh battery pack. The motors are configured in an all-wheel-drive setup, using the brand's latest-generation Quattro system. The setup develops a maximum power of 242hp and a peak torque of 720Nm. The EV promises to deliver a driving range of over 600km on a single charge.