Delhi University's Hansraj College stops serving non-vegetarian food in canteen
Delhi University's Hansraj College stops serving non-vegetarian food in canteen
Jan 15, 2023, 07:14 pm
3 min read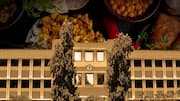 A controversy has been triggered in Delhi University's Hansraj College after authorities stopped serving non-vegetarian food to students in the canteen and hostel, ANI reported. The issue came to the fore after the offline classes resumed at the institution after the COVID-19 pandemic. Meanwhile, the college administration justified the decision saying it was taken after students' consent and received no complaints about it.
Why does this story matter?
The decision has surprised many students, particularly those from South Indian regions who have a habit of eating non-vegetarian meals.
The news comes amid a social media controversy about the inclusion of non-vegetarian menus in food festivals throughout India in an effort to break "brahminical hegemony."
The issue erupted after some internet users suggested including non-vegetarian cuisines at an art festival in Kerala.
Students oppose stopping non-vegetarian food in college canteens, hostels
The move by the administration is creating difficulties for south Indian students who have strongly opposed the move. Abhay Maurya, a second-year student of the college told ANI that earlier college authorities suddenly stopped serving non-veg food and eggs. "The students who have come from the south face a lot of issues because they have the habit of eating non-veg," he said.
Decision receives some support as well
Some students, however, welcomed the change, arguing that there are fewer students who take non-vegetarian food. "People who want to eat non-veg can have it outside. Students are happy with vegetarian food," Vivek Kumar, a third-year student of Hansraj College. Technical difficulties, such as using the same utensils for different types of meals, were also mentioned by some students.
College administration justifies move, says decision taken 3-4 years ago
Professor Rama, the institution's principal, stated that the college had ceased serving non-veg approximately 3-4 years ago and that the present decision must have been made after considering students' approval. "The committee must have had a word with students before taking the decision and then the decision must have been taken to stop serving non-veg food," India Today quoted her as saying.
The raging issues on 'non-vegetarian' food in colleges  
Last year, Jawaharlal Nehru University (JNU) witnessed a fight after Akhil Bharatiya Vidyarthi Parishad (ABVP) students reportedly prevented other students from consuming non-vegetarian food during Ram Navami. Notably, a private members' bill demanding a ban on non-vegetarian food at official gatherings was recently introduced in parliament. However, there has been increased demand to incorporate non-vegetarian cuisine in festivals across India to reduce "Brahmanical hegemony".