#NewsBytesExclusive: 'Ensured 'Trial By Fire's not sensationalized,' co-director Randeep Jha
#NewsBytesExclusive: 'Ensured 'Trial By Fire's not sensationalized,' co-director Randeep Jha
Jan 20, 2023, 11:04 am
3 min read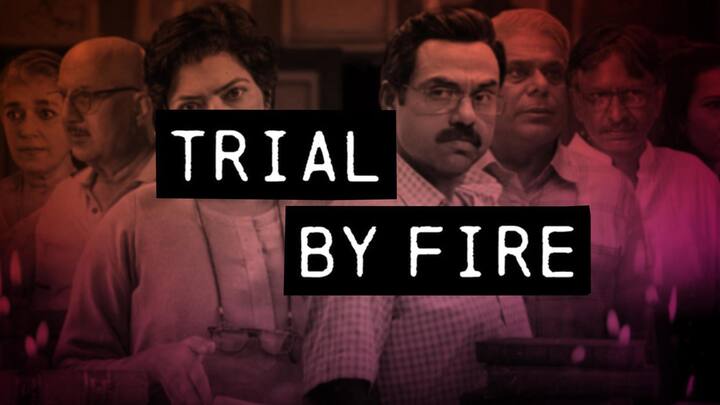 Netflix's Trial By Fire is a heartwrenching watch, one that may rip your heart to shreds. Based on the 1997 Uphaar Cinema Tragedy, it has been adapted from Neelam and Shekhar Krishnamoorthy's book Trial by Fire: The Tragic Tale of the Uphaar Fire Tragedy. NewsBytes spoke to its co-director Randeep Jha about the challenges of book-to-series adaptation, obstacles triggered by COVID-19, and more.
'We have to be conscious of our filmmaking gaze'
Responding to how he ensured that TBF doesn't seem exploitative, he says, "We have to be always conscious of our gaze and the lens through which we view something. I constantly discussed it with showrunner Prashant Nair and our own sensibility also contributed to it." "We focused more on human emotions rather than exploiting the tragedy, but yes, the fear of sensationalizing always persists."
How did the pandemic impact the shooting schedule?
He shares his shooting experience during the second COVID-19 wave, "We encountered multiple restrictions, worked with limited people. Actors had it the toughest due to their costumes and makeup. However, we eventually devised a process." "Shooting in a dingy lane in Anna Nagar was the hardest since it was not under our control. Nonetheless, we shot in 67 days with some breaks in between."
Jha and showrunner Prashant Nair divided duties beforehand
When asked how Nair and he divided the directorial duties, he explains, "We divided scenes beforehand. I shot multiple sequences with Ashish Vidyarthi Sir, Prashant majorly shot with Abhay Deol and Rajshri Deshpande. We shot Rajesh Tailang's track together." "We divided the tracks in advance. At times, we used to shoot simultaneously and covered different chunks, while maintaining the same flow/graph," he adds.
'TBF' has a 'unique and interesting narrative style'
Accrediting Nair, he calls the script "quite interesting and unique." "To demonstrate the real tragedy in the last episode was Prashant's idea. When the script came, I loved the narrative style." "It was our conscious decision to uncover the tragedy's impact on the victims first, then the Krishnamoorthy's fight against the system, and eventually show the Uphaar tragedy in the final episode."
Jha spent a lot of time navigating through research material
How did Jha research for the seven-episode-long series? "I read the book thoroughly. I had earlier also followed the case in the media through news articles and videos, so we had abundant research material to navigate through. I also went through some similar cases that happened in other places to find some connection." "In fact, somehow, the more I researched, the lesser it seemed."
'TBF' will surely develop some sense in the country'
Hoping that TBF will act as a step in the right direction, he says, "I am sure it will definitely develop some sort of sense. In India, the documentary trend is still relatively new, though outside India one can see multiple projects based on these topics." "It's pertinent that tragedies such as these are represented in fiction since they trigger conversation in society."
Jha also spoke about what he's learned from Anurag Kashyap
Jha—who has worked with Anurag Kashyap as an assistant director—says that he learned the "craft" from him. When asked if Kashyap has any influence on his work, he says, "I am not sure, that's for the viewer to decide. Though technically, there might be some similarities." "In the end, cinema is an emotional journey, it's personal, it's poetry. Everyone has their own cinema."