Stream or skip? Charlotte Wells' father-daughter drama 'Aftersun' on MUBI
Stream or skip? Charlotte Wells' father-daughter drama 'Aftersun' on MUBI
Jan 08, 2023, 01:15 am
3 min read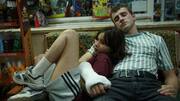 The most honest, accurate way to describe Aftersun would be to call it a tender packaging of emotions. It's almost like a needle that knows the exact nerve that needs to be hit—the right chord that needs to be touched. Charlotte Wells' directorial debut and global critics' favorite, the poignant father-daughter drama is available on OTT platform MUBI. Here's why we root for Aftersun.
But first, what is the film all about?
Aftersun (2022) follows 11-year-old Sophie (Frankie Corio), who vacations for a few days in Turkey with her father, Calum (Paul Mescal). It becomes an awakening, a rite of passage for them both, but more importantly for Sophie, who is stuck at an archway that separates innocent childhood from emotionally jarring adulthood. The vacation, eventually, ends up becoming the last memory Sophie has of him.
Sophie looks back at delightful yet melancholic memory
Aftersun is a moving watch, one that may stimulate fervid emotions you had locked up in your distant memory. It gently navigates through the complex layers of a father-daughter relationship, with them compensating for the time lost while a sense of foreboding simultaneously looms large. A sense of palpable longing and yearning defines Aftersun—the past conspicuously glitters in comparison to a pale present.
Story narrated through childhood memories, camera footage
In Aftersun, an adult Sophie recalls the memories of the vacation through the videos captured on her camcorder. Accordingly, the film is stitched together through some blurred footage and some normal scenes—the implication is that we are sometimes looking at old videos and, on other occasions, viewing what's stored exclusively in her mind and heart. This stream of consciousness brings us closer to Sophie.
Authentic father-daughter relationship keeps us engaged
The relationship between two generations is the beating heart of Aftersun—it's an ode to relations that once were and the people that once colored our lives bright. It's striking that for one of them, time is slipping away (elaboration would be a spoiler), while for the other, life has just commenced. The vacation, thus, becomes both an act of coming together and letting go.
Calum's mental health eventually keeps him away from daughter
Aftersun carefully places hints of Callum battling a mental illness, and when Sophie unknowingly describes depression's symptoms, he suddenly steers the conversations differently. There are "two Calums," and the other one comes alive in moments of harrowing loneliness when his mental illness wears him down. He doesn't go to sleep but rather collapses on the bed and lays on his stomach—it's anguish, not tiredness.
No other major characters, but we aren't complaining
Corio, as the young, inquisitive, confident Sophie, is a delightful presence on the screen—one who can make you undergo the whirlwind of emotions she's soaked in. Paired with leading Hollywood actor Mescal, they both make for a formidable team that doesn't let you notice the lack of any other major characters. Corio, in particular, is a scene-stealer in her debut feature film role.
Watch this emotionally potent film today!
My heart skipped a beat when the last footage abruptly stopped. Aftersun summoned me back to the adult Sophie's reality who only has the remnants of her father's memories to cling to. They become a gift that he secures for her, a heartbreaking reminder that he may be gone too soon, but the memories will now fill that chasm or at least try to.