India's COVID-19 vaccination campaign crosses milestone of 2 billion doses
India's COVID-19 vaccination campaign crosses milestone of 2 billion doses
Edited by
Ramya Patelkhana
Jul 17, 2022, 11:24 am
3 min read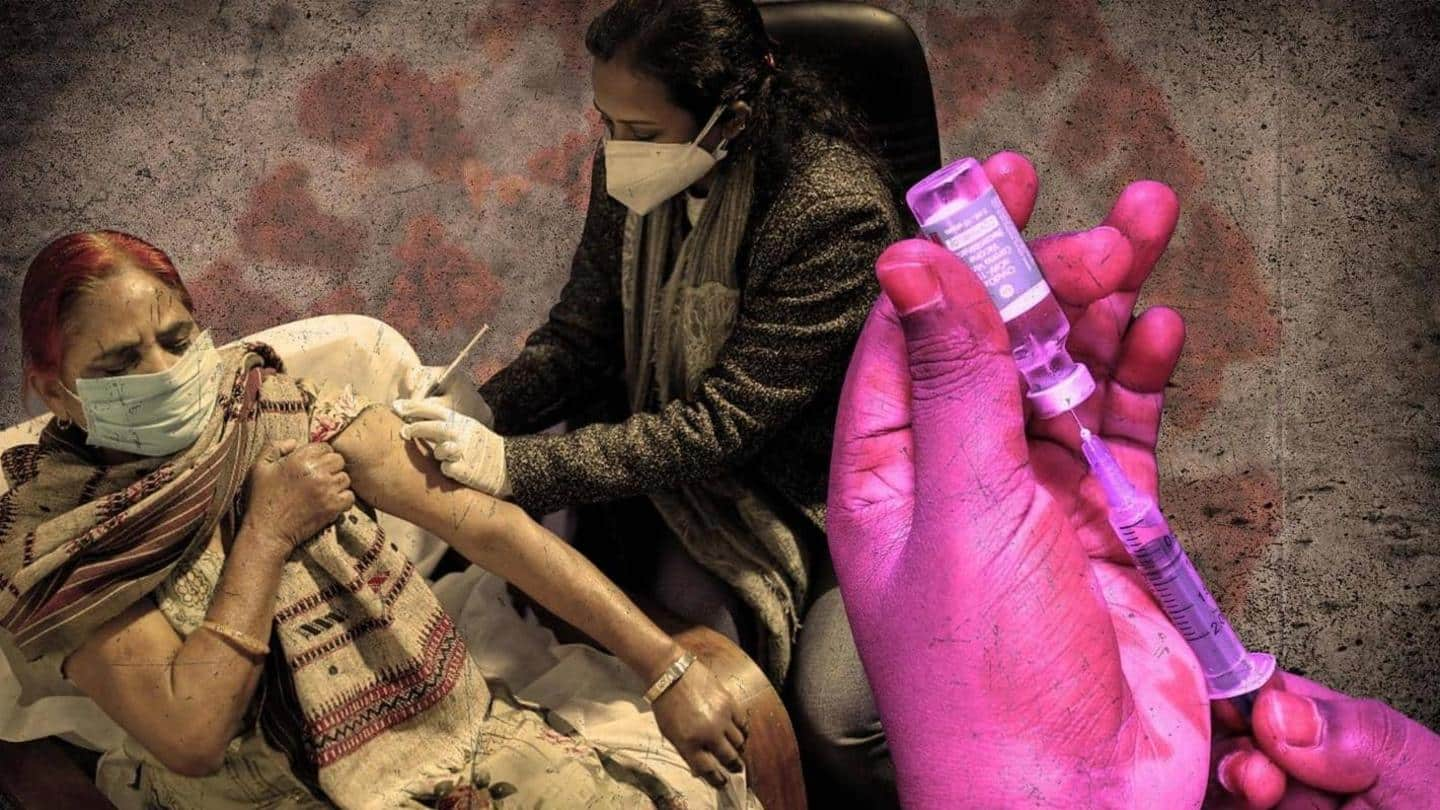 India on Sunday crossed the milestone of administering two billion COVID-19 vaccine doses. The feat comes exactly a year and a half after the world's largest coronavirus vaccination drive was launched by the country. The Centre on Saturday—in anticipation of reaching the milestone—installed a digital clock on the Co-WIN portal that ticked backward to determine the number of doses needed to achieve the feat.
Why does this story matter?
Since the nationwide COVID-19 immunization drive commenced on January 16 last year, 1,017,462,202 first vaccine doses, 925,973,984 second vaccine doses, and 56,236,136 precautionary doses have been administered in the country till 7:00 pm on Saturday.
India has reached the two billion mark even as it is currently witnessing a resurgence of COVID-19 cases after recording a sharp decline from January's end to April's beginning.
'India creates history again': PM Modi
Union Health Minister Mansukh Mandaviya on Sunday tweeted that "India has scripted history" under PM Narendra Modi's leadership. "This extraordinary achievement will be etched in the history!" he added. Meanwhile, PM Modi tweeted, "India creates history again! Congrats to all Indians... Proud of those who contributed to making India's vaccination drive unparalleled in scale and speed. This has strengthened the global fight against COVID-19."
90% of India's population has been fully vaccinated against COVID-19
On October 21, 2021, India achieved a watershed moment by providing the billionth dose. At least 90% of India's total population has been reportedly fully immunized against COVID-19. According to experts, this strategy has been successful in reducing the number of hospitalizations and fatalities in the third COVID-19 wave, which started around January this year and was primarily caused by the Omicron strain.
Emphasis switching to precautionary doses
Nationwide, vaccines are administered at almost 50,000 vaccination centers daily, the majority of which, nearly 47,000, are government sites. For those who cannot access a COVID-19 vaccination center owing to old age or physical limitations, the Centre has requested the states to provide a doorstep facility to them. Since few people are taking the third dose, the authorities are now focusing on encouraging booster doses.
Steps taken so far to encourage booster doses
Last month, the Union Health Ministry lowered the gap required between the second COVID-19 vaccination dose and the precaution dose for all beneficiaries from nine months to six months. Moreover, as part of the Azadi Ka Amrit Mahotsav celebrations, the Centre has announced that booster shots will be administered for free for all adults at government-run centers beginning Friday (July 15) for 75 days.
92% eligible Indians didn't take their booster dose: Report
The Hindustan Times reported that, as of Thursday (July 14), a whopping 92% of Indians who were eligible for the precautionary dose, or booster shot, of the COVID-19 vaccine have not yet taken these doses. In absolute terms, 594 million Indian adults were "late" for their precautionary vaccinations as of Thursday, highlighting the importance of the government's promise of a countrywide 75-day free vaccination.
Slight rise in COVID-19 cases
India recently saw a slight uptick in COVID-19 cases this week. On Thursday, over 20,000 infections were reported for the first time since February. On Sunday, India's active caseload stood at 143,449; the recovery rate was 98.47%. The number of cases across the world rose by 30% in the last two weeks. This is being driven by "highly transmissible" Omicron sub-variants, per the WHO.