You must try these life changing lasagna recipes
You must try these life changing lasagna recipes
Jan 22, 2023, 01:15 am
2 min read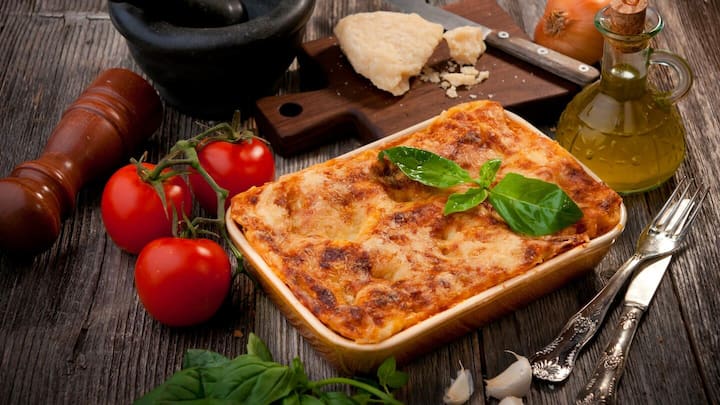 A type of pasta dish, lasagna is usually made of flat handmade sheets with rich layers of cheese, meat, veggies, spices, and seasonings oozing out from between the layers. The luscious recipe includes a handmade white sauce that keeps the dish moist. This Italian dish can be easily served as dinner at any party. Here are five different lasagna recipes you need to try.
Saute garlic in olive oil. Add salt, sugar, tomato puree, oregano, chili powder, and basil, and simmer well. Saute flour in a butter-greased pan. Add milk and simmer. Mix broccoli, zucchini, bell peppers, onions, carrots, and spinach. Add tomato sauce, white sauce, and tomato puree mixture. Line with a layer of lasagna strips, sprinkle grated cheese, and bake for 25-30 minutes. Serve hot.
Saute black pepper, garlic, and bay leaf in oil. Add tomatoes, red chili powder, mixed herbs, salt, and onions. Blend this mixture well. Add tomato ketchup and chili sauce and mix well. Add red sauce, white sauce, and rolled bread and repeat spreading the sauces. Add veggies and cheese. Spread the sauces again, followed by more cheese. Bake for 10-12 minutes and serve hot.
Mushroom and spinach lasagna
Saute garlic in a pan. Add mushroom and chopped thyme, mix and cook well for three-four minutes. Add spinach leaves and stir-fry. Turn off the heat, and add cheddar cheese to the pan. Add parmesan cheese and Italian seasoning. Add spinach mixture to the dish, followed by lasagna sheets, and repeat several times. Sprinkle cheese and Italian seasoning and bake for 25 minutes.
Saute garlic in olive oil. Add salt, tomato puree, oregano, basil, chili powder, and sugar, and simmer. Saute flour in butter. Add milk and boil. Mix together mutton keema, white sauce, and tomato sauce. Spread tomato puree on the base. Line with lasagna strips, spread the meat, and sprinkle cheese. Repeat the layers. Spread white sauce, tomato sauce, and cheese. Bake for 25-30 minutes.
Add butter to a saucepan. Add whisked eggs, cover with a lid and cook for a few minutes. Cut the egg into disks with a round cutter. Place one egg sheet on a serving plate. Spread pizza sauce and put another egg sheet on top. Add cherry tomatoes and grated cheese, and repeat this at least five times. Bake for five minutes. Enjoy!