Microsoft's ChatGPT-powered Bing is open for everyone starting today 
Microsoft's ChatGPT-powered Bing is open for everyone starting today 
Feb 08, 2023, 12:51 am
4 min read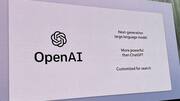 Microsoft's surprise event at its headquarters in Redmond, Washington was expected to be a watershed moment in the evolution of the internet and AI. As expected, the company's biggest announcement to a room full of journalists and creators was "the new Bing." A search engine that is more than just a search engine. It is powered by a next-generation LLM from OpenAI.
Why does this story matter?
The AI race between Microsoft and Google is heating up. If the arrival of ChatGPT increased the pressure on Google, Microsoft's interest in OpenAI took it to the next level.
The sudden announcement of Bard, Google's answer to ChatGPT, shows how alarmed Google's higher-ups are.
With Google's event scheduled for February 8, it's no coincidence that Microsoft decided to do theirs a day earlier.
Users will be able to chat with the new Bing
Yusuf Mehdi, Microsoft's AI head, called the new Bing "search coming together with chat...with browser." Like ChatGPT, the new Bing search will answer your questions. According to Mehdi, Microsoft is going to let us chat with the search engine. The new Bing will have an expanded search box that accepts up to 1,000 characters. And guess what, it is more powerful than ChatGPT.
New Bing search shows traditional search results and specific answers
When you search for something on the new Bing, you will find traditional search results placed alongside an answer to your question. For instance, if you ask whether an Ikea loveseat would fit into a minivan, Bing can find the dimensions of both and answer your question. But the new Bing isn't just about searching. You can chat with it too.
Bing's chat interface offers a ChatGPT-like experience
Bing's chat is similar to the experience ChatGPT offers. In the chat interface, there won't be links. However, you will find a lot of footnotes. Like ChatGPT, Bing's chat can do anything from preparing an itinerary for your trip to creating a summary of that itinerary, and sending an email. It can also translate into 100 languages.
Bing's chat is available on revamped Edge browser
The new Bing experience is available on the Edge browser as well. Microsoft showcased a new UI for Edge with Bing's chat available as a sidebar. You can use the chat on Edge to give you key takeaways of the page you are on or even compare the quarterly reports of companies. Like ChatGPT, it can also rewrite code.
Users can try limited queries on new Bing right away
Microsoft said that it is rolling out the new Bing interface globally but slowly. It is available on desktops starting today in a "limited preview." You will be able to try a limited number of queries. However, people can also sign up for full access. The company said that the new Bing will be available to more people and mobiles soon.
Microsoft recently made a multi-billion dollar investment in OpenAI
To recall, Microsoft recently took its collaboration with OpenAI up a notch with a multi-billion dollar investment, reported to be $10 billion, in the AI torchbearer. The company's investment was a statement about how serious it is about using OpenAI's arsenal to improve its products. Microsoft also launched Teams Premium with features powered by OpenAI's GPT-3.5. ChatGPT is built on the same model.
ChatGPT can answer follow-up questions and remember conversation history
The name ChatGPT has become synonymous with AI. This chatbot can write code, correct coding mistakes, write essays, explain scientific concepts, and much more. And all of this in a human-like manner. ChatGPT's capability to hold a conversation, answer follow-up questions, and ability to recount what was said earlier has stunned everyone. Many consider it the future of internet search.