All-new Pravaig Veer EV showcased in India: Top features explained
All-new Pravaig Veer EV showcased in India: Top features explained
Jan 16, 2023, 12:05 am
3 min read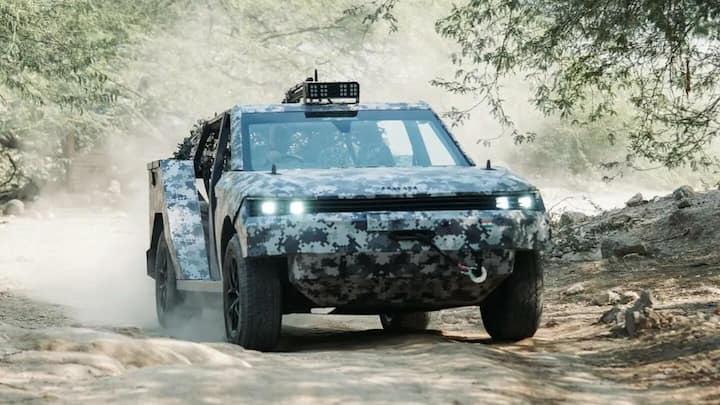 Homegrown startup Pravaig Dynamics has showcased the Veer EV at the ongoing Auto Expo 2023. The no-frill off-road-ready electric car has been primarily designed for the Indian Army. To recall, the vehicle was first showcased by the brand at the launch of its first-ever e-SUV, the DEFY, last year. The fully-camouflaged model aims to become the go-to offroader for our armed forces soon.
Why does this story matter?
Electrification is becoming a priority in the automotive industry. Almost every automaker is focusing on developing Battery Electric Vehicles (BEVs).
With rapid developments in charging infrastructure in India, Bengaluru-based Pravaig Dynamics is aiming to become a top player in the fast-growing EV segment.
After the mid-size e-SUV, the DEFY, the automaker is now planning to provide green mobility solutions for the Indian Army.
Bare-bones yet functional design
Unlike the Defy, the Pravaig Veer is designed to be a capable off-road-biased EV. It looks purposeful as a military vehicle without the doors or a proper hardtop roof. The SUV has jacked-up bumpers, giving it better approach and departure angles while off-roading, and features useful attachments such as sky hooks, an electric winch, and provisions for accommodating equipment or weapons on the top.
Thermal night-vision camera
The Pravaig Veer comes equipped with a windscreen-mounted thermal night-vision camera system. It can be a useful feature for army personnel patrolling in sensitive areas, as it can provide a wide view of the surroundings even in low-light conditions. Thermal imaging can also come in handy when trying to spot hidden dangers such as wild animals or a group of people from a distance.
A capable all-wheel-driven electric powertrain
The Pravaig Veer draws power from dual electric motors in an all-wheel-drive configuration, that is linked to a large IP-rated 90.9kWh battery pack. The setup churns out a maximum power of 408hp and a peak torque of 620Nm. The rugged EV promises a driving range of over 500km on a single charge. It also has fast-charging capabilities and does 0-80% charge in 30 minutes.
Ultra-sonic sensors and radar for ADAS functions
Much like its sibling, the Defy, the Pravaig Veer is also equipped with a suite of Advanced Driver Assistance System (ADAS) functions. With an array of 12 ultra-sonic sensors all around the body, adaptive LED headlights, and a 77GHz radar, the electronics suite can assist the driver when going through an obstacle-laden route. The functions are handled by a MultiVAC computer system.