'Pathaan' review: SRK's spy thriller that will save Bollywood
'Pathaan' review: SRK's spy thriller that will save Bollywood
Jan 25, 2023, 01:38 pm
4 min read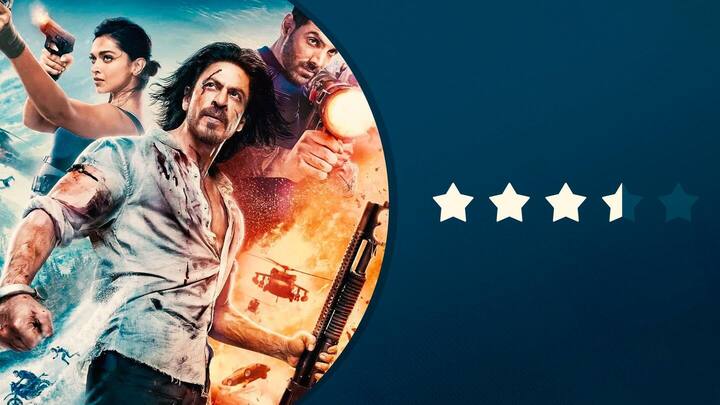 Shah Rukh Khan is back and it's with a bang! His humor is packed with unmissable charm, a well-toned physique, smooth one-liners, and his glare: everything about SRK as a spy makes Pathaan a worthy comeback. He has returned to the big screen only to remind us that he truly is the Badshah of Bollywood. Here's our review of King Khan's Pathaan.
SRK's return is worth every buck!
Crowded theaters, housefull shows, and whistles upon his entry (and his action scenes), that's how the first-day first show of Pathaan was. SRK has returned to screens with what he does best - play his magical charm on you. He has come back in a never-seen-before action-packed avatar. Every element of his is right in place, making the movie a full paisa-wasool spy actioner.
Deepika Padukone deserves a stand-alone actioner
After XXX: Return of Xander Cage, Deepika Padukone is back in her action element with Pathaan. Those sleek kicks and firing the nasty weapons, suit her similarly or more than the periodical dramas she does! Her performance as an ISI agent and her action sequences are so good that filmmakers should truly consider roping her in for a stand-alone actioner.
John Abraham is a terrific addition 
Seen as the chief of a terrorist organization, there cannot have been a hotter antagonist than John Abraham. Once you move past his good looks (and body, of course), he'll impress you with his poker face and action. Abraham has barely got dues for his characters in past, but he sure is one of the best actors for action films in today's times.
A spy film that runs high on patriotism
The story, which runs high on patriotism, revolves around Jim who is seeking revenge against India while Pathaan is put on a mission to stop him. The film is based around when India scraps Article 370 which triggers Pakistan to capture Kashmir. In his mission to stop Jim, Pathaan teams up with ISI agent Rubina Khan who comes with trust issues.
Hollywood's action director Casey O'Neill is Siddharth Anand's best bet
Emmy-nominated action director Casey O'Neill has given India its one-of-a-kind spectacle action film. O'Neill, who has worked with Tom Cruise in many films including Mission Impossible franchise, has left no stone unturned in delivering the best action sequences. From car chases to fight sequences on trains, snow bikes, and in the air, Pathaan's action is at par with Hollywood films.
Anand develops a worthy spy universe for YRF
Director Siddharth Anand who has previously helmed War has gifted a massy-spy actioner to the audience with Pathaan. He has very well connected the other two spies of YRF—Tiger and Kabir—with Pathaan. Speaking of direction to cinematography and imagery, Anand has set a benchmark for himself, especially with his next actioner, Fighter, which stars Hrithik Roshan and Padukone.
The much-awaited reunion of Karan and Arjun
One of the biggest highlights of Pathaan is the reunion of Bollywood's Karan Arjun—Salman Khan and SRK as Tiger and Pathaan. The much-awaited cameo of Tiger is whistle-worthy! The two indulge in funny banter while fighting their enemies together, giving the audience a look into their real-life decades-long friendship. With Pathaan, the two actors have also confirmed SRK's cameo in Tiger 3.
Even though the action sequences are largely impressive, there were parts where one could easily identify the chroma effect or the use of body doubles. This is probably where Indian cinema still needs to up its action game. Apart from this, a couple of one-liners of SRK could have been written better without adding unnecessary sexuality to it.
A better ending could have fetched an extra mark
It's a no-brainer that Pathaan will be able to save the country at last. Pathaan closes on an over-the-top note that is too dramatic and barely realistic. It comes off as if the writers were focused on adding more action toward the end, and not on writing. Some scenes also come off as predictable including the twists and turns that aren't difficult to guess.
Is it worth watching the film?
Don't think twice before booking your tickets for Pathaan. SRK, Padukone, Abraham, Dimple Kapadia, and Ashutosh Rana played their roles perfectly. Minus the few glitches here and there, Pathaan is certainly a must-watch. It gets 3.5 out of 5 stars. And like I mentioned in the review earlier, there could not have been a better comeback for SRK than this.