5 foods that can make your memory problems worse
5 foods that can make your memory problems worse
Jan 30, 2023, 02:15 am
2 min read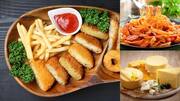 One of the most important organs in your body, your brain requires adequate nutrition and a healthy diet to keep it in optimum condition. While certain foods can be essential for your memory and brain health, there are some foods that impact memory and increase the risk of dementia. Here are five foods that can make your memory problems worse.
Foods like samosas, fish and chips, French fries, chicken pakoras, tempura, etc., are not good for your brain health and can trigger memory loss. According to a study, 18,080 people who had a diet full of fried foods experienced loss in memory and concentration. These foods cause inflammation in the body that can damage the blood vessels that supply your brain with blood.
Pastas and refined bread are some of the worst foods for your brain as they are stripped of their nutrients at the time of processing. These processed and high glycemic carbs can also spike your insulin and blood sugar levels, thereby affecting your memory and cognitive abilities. You can instead try including brown rice pasta or whole grain bread in your diet.
Vegetable oils like canola oil are high in inflammatory fatty acids and omega-6 fatty acids that can affect your brain functioning and increase the risk of developing Alzheimer's. It can also trigger depression and other cognitive issues. The chronic brain inflammation caused by consuming vegetable oil can often lead to mental exhaustion. Instead, go for brain-boosting coconut oil or extra virgin olive oil.
Loaded with saturated fats, cheese can clog your brain vessels and cause inflammation that increases the risk of impaired memory and stroke. Cheeses like American cheese and mozzarella sticks build up proteins in the body that is associated with Alzheimer's. Instead, you can go for plant-based creamy alternatives like avocado, which is a great source of folate, which is useful for boosting your memory.
Mercury is essentially a neurological poison that can usually be stored in animal tissues for a long time. Seafood like sharks, tuna, king mackerel, tilefish, and swordfish contain high levels of mercury that can disrupt brain development and damage cell components, especially in young children and developing fetuses. Consuming high-mercury fish often can also affect your liver and kidneys. besides contributing to memory loss.