5 healthy pre-workout breakfast recipes to fuel up your mornings
5 healthy pre-workout breakfast recipes to fuel up your mornings
Jan 11, 2023, 04:13 pm
2 min read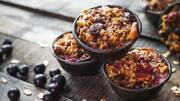 When you wake up for an early morning workout, your body's energy levels are depleted. This happens because you sleep all night without any intake of food. So when you workout, it becomes more important to munch on a healthy breakfast to fuel up your morning. Here are five pre-workout breakfast recipes you can try and make your fitness activity more enjoyable.
Coconut, blueberry, and date smoothie
To make a coconut, blueberry, and date smoothie, combine a half cup of frozen blueberries with two sliced medium bananas and one date in a blender. Pour one-fourth cup of coconut milk and blend all the ingredients until smooth. Pour the smoothie into a glass and add ice cubes if you want. Your blueberry coconut milk smoothie is ready to be consumed.
Take one-fourth cup of almond milk, one banana, one-third avocado, one cup of baby spinach, a tablespoon of cacao nibs, a teaspoon of hemp seeds, and two tablespoons of almond butter. Add them all to a blender except the cacao nibs and almond butter. Blend until smooth. Finally, transfer the concoction to a bowl. Fold in cacao nibs and top with almond butter. Enjoy!
Ginger citrus pear smoothie
Take one cored pear, one peeled orange, one tablespoon of lemon juice, half peeled ginger root, half a cup of Greek yogurt, and one cup of ice. Add all ingredients to a blender and blend until smooth. Taste test to see if you want to add any honey for extra sweetness. Your ginger citrus pear smoothie is ready to be savored.
Toast bread and spread some almond butter on it. Top it with a layer of sliced bananas and sprinkle some chia seeds. Drizzle some honey. That's it! You can replace almond butter with peanut butter if you want. You can also add toppings such as chocolate chips, coconut flakes, berries, roasted flax seeds, or chocolate sauce to your toast to make it flavorful.
Avocado toast and 'dukkah' with poached egg
Crush an avocado with a fork, and add salt and green onions. Boil eggs in a pan for 3 minutes and then place them on a plate with a paper towel. Toast a slice of bread and brush it with olive oil and avocado puree. Sprinkle some salt, put the poached eggs, and add dukkah. You can replace dukkah with your favorite seasonings. Enjoy!