Masaba Gupta quits sugar: Know how it benefited her
Masaba Gupta quits sugar: Know how it benefited her
Feb 04, 2023, 10:37 am
2 min read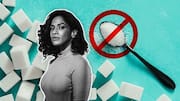 Indian fashion designer and actor Masaba Gupta is setting new fitness goals by quitting sugar. She revealed in a recent Instagram Story about completing her resolution to stay off refined sugar in all forms for 21 continuous days. "Just completed 21 days off refined sugar. And I cannot believe I did it," she wrote. Read on to learn how she benefited from quitting sugar.
You gotta go cold turkey on this s t: Masaba Gupta
"Dessert/chocolate etc. was my biggest weakness but more importantly messing with my gut. You kinda have to cut the cord overnight," Gupta wrote in her Instagram Story. "Not even a piece of dark chocolate or substitutes like honey/jaggery cakes. Nothing. You gotta go cold turkey on this s**t. I even deleted food delivery apps from my phone," she added.
In what ways did quitting sugar benefit her?
Gupta, in her Instagram Story, shared in what ways staying away from refined sugar helped her. She revealed that it helped her achieve better brain function, more focus at work, and more energy for workouts. She also had no breakouts or bloating, experienced fewer mood swings, and had close to zero anxiety. She maintained her body weight and the patches on her knee vanished.
How sugar damages our skin
Our skin is made of collagen, a type of protein that keeps it healthy and supple. With an increased intake of sugar, the molecules attach to the proteins and form free radicals. The presence of these radicals, in turn, can cause damage in our body which manifests in our skin, hair, nails, and overall energy levels in the body.
Benefits of not consuming sugar
Quitting processed sugar can help you regulate your blood sugar, aid in weight loss, improve your oral health, and reduce the risk of liver diseases. It helps maintain your heart health, reduces acne, improves skin health, and may also lower your risk of depression. Apart from this, your stress will be under control and your body clock will be precise.
To curb sugar cravings, stock up on protein-rich whole foods, such as meat, fish, eggs, dairy products, avocados, and nuts. You also need to cut back on sugary drinks and desserts and eat whole foods. Be cautious when you consume packaged foods, and always check their sugar content. Replace soda cans, fruit juices, energy drinks, etc., with water.