Beauty review: The Tribe Concepts Mini Masking Kit
Beauty review: The Tribe Concepts Mini Masking Kit
Jan 23, 2023, 06:37 pm
3 min read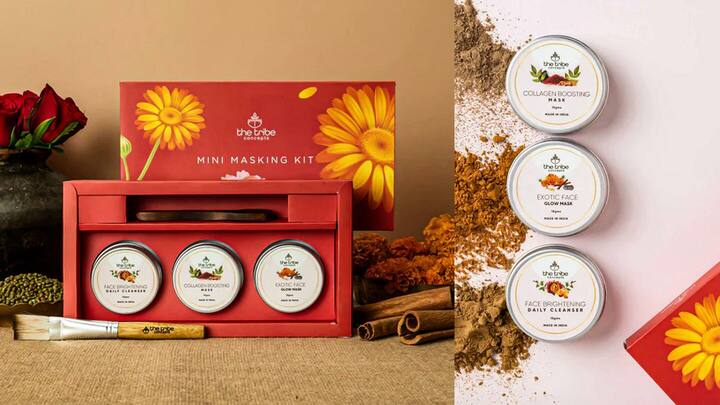 We all want naturally glowing and flawless skin. While there are many chemical treatments that can help you achieve that glow, there is nothing better than using concoctions containing natural and organic ingredients. The Tribe Concepts mini masking kit claims to be a perfectly curated collection of glow masks that are made with homegrown ingredients. Here's our review of the product.
The masking kit contains three face masks that are made with authentic Ayurvedic ingredients. This handmade and plant-based kit has been certified by the Ministry of Ayush and GMP and claims to be 100% chemical free, and organic. It is a sustainable, cruelty-free, and vegan product that has no added fragrance. The masks promise to offer you instantly glowing skin.
About the three different masks
The exotic face glow mask will give you an even-toned glow, and deep hydration. It also claims to remove tan, and treat mild acne. The collagen-boosting mask will help in skin tightening while reducing sagging and giving you a radiant complexion. The three-in-one face brightening cleanser+scrub+mask will help remove blackheads, brighten your skin and give you a blemish-free appearance.
The face brightening daily cleanser contains natural sun-dried rose petals, manjishtha, tunga musta, organic sandalwood, bavanchalu, fenugreek, neem, holy basil, vetiver sugandhi root, wild turmeric root, and kacharalu. The natural collagen-boosting mask contains Ashwagandha, Himalayan shilajit, saffron, triphala, rose, and jhatamansi. The exotic face glow mask contains red sandalwood, marigold, rose, licorice, chironji, wild turmeric, khus khus, camphor, and cinnamon.
The three natural and Ayurvedic masks come in a beautiful gift box that you can slide open. Inside the box, the masks are arranged well in cute little tin containers. Each mask has 15 grams of product in it in powder form. The box also comes with a wooden masking brush and a wooden spoon, and the entire kit costs Rs. 999.
Since the masks are in powder form, you will need to mix them with any liquid to make a fine paste. Take one teaspoon of the mask of your choice in a bowl and mix it with water, aloe vera gel, or tomato juice. Apply all over your face and neck and wash off after 15-20 minutes. Use each mask alternatively twice a week.
Should you go for this mini masking kit
If you want a quick glow on your face while tightening and brightening it, this is the masking kit for you. I personally loved the face glow mask which instantly offered a natural and subtle radiance to my face. It is perfect when you need a quick fix for any sudden event you have to attend. A thumbs up from my side.