Google's India feature drop: From multisearch to DigiLocker in Files
Google's India feature drop: From multisearch to DigiLocker in Files
Dec 20, 2022, 04:52 pm
4 min read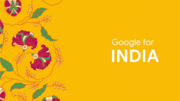 Google has just concluded its 8th India event where it discussed the advancements in AI-powered innovations and features. The tech giant is releasing more natural and intuitive ways to improve search experience, multisearch for finding relevant information using images and text simultaneously, and bilingual searches. It also discussed a new speech recognition model for non-standard speeches and direct access to DigiLocker-verified documents using Files.
Why does this story matter?
From farmers in the agricultural central belt to young urban entrepreneurs, we Indians have taken the lead in defining and embracing digital practices in the wake of the pandemic.
Google for India event 2022 covered the tech giant's top accomplishments/features of the year.
The company continues to build more AI-powered features to eliminate language barriers and help people access information more securely.
More natural and intuitive ways for a better search experience
Google Search has indeed advanced far beyond a simple tool for text query. People are now using their voices more frequently to conduct web searches in their languages. Also, phone cameras are being used to learn more about the surroundings. In this scenario, Google's advancements in Artificial Intelligence aim for an improved search experience across visual, voice, and linguistics.
Multisearch for finding information using images and text simultaneously
Google's latest feature, Multisearch makes visual searches even more natural, using both images and text, simultaneously. Simply open Google Lens, take a picture, add words to your inquiry, and get the results. Multisearch is currently available in English, with rollout in Hindi and other languages by 2023. Besides images, you can search for anything mentioned in a video, using the "Search in video" function.
Bilingual search results for pages
Google now offers bilingual search results for queries, making searching and exploring more convenient for users who use multiple languages. This functionality delivers pertinent content in native languages alongside English results, by utilizing cross-language search technology and machine learning-based translation models. The feature is already available in Hindi and will be released in Tamil, Telugu, Marathi, and Bengali next year.
A new speech recognition model for Hinglish speakers
Indians often use Hinglish - a blend of Hindi and English. Hence to fulfill the dynamic language needs, Google has introduced a newly developed, neural-network-inspired speech recognition model. It takes into consideration, the individual's accents, surrounding sounds, context, and speaking styles. By using this new functionality, people will be able to find information and complete tasks online by simply speaking in their own way.
Improved speech recognition technology for non-standard speeches
Google says it has built Project Relate, an app, which is trained to work with non-standard speech patterns. It aims to make speech recognition technology products like Google Assistant more accessible to users. In India, the tech giant is currently enhancing the app for English users. By early 2023, it will be expanded to Hindi users too.
Direct access to DigiLocker-verified official documents from Files on Android
Now, Android users can access their official documents from DigiLocker, directly via Files app. Google has partnered with the National eGovernment Division (NeGD) to provide individuals with easy access to their digitally stored documents. The documents will be stored in the Files app at a secure location on your device. They will only be reachable using a unique lock screen verification.
Google's upcoming feature will translate your doctor's illegible handwriting
At Google for India 2022 event, the company also demonstrated its capability to decode the clumsily written prescription notes by doctors. Google revealed that it is working with pharmacists to create an AI-powered machine-learning model that can decipher difficult-to-read handwriting with a particular emphasis on medical prescription information. The search giant is yet to reveal the release date for this text-deciphering feature.