CES 2023: L'Oreal's gadget uses AR to print bespoke eyebrows
CES 2023: L'Oreal's gadget uses AR to print bespoke eyebrows
Jan 04, 2023, 12:36 pm
2 min read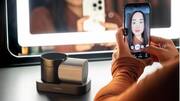 Do you want to shape your eyebrows but do not have a salon nearby? Worry no more. French personal care company L'Oreal showcased a new gadget ahead of CES 2023, called Brow Magic which prints brows on your face using augmented reality (AR). The ergonomic device is easy to use. It should be launched this year but the pricing details are not available yet.
Why does this story matter?
The lines between technology and our social lives are getting blurred, and the latest unveiling by L'Oreal exemplifies that.
Eyebrow shaping/sculpting is a headache for thousands across the world, and the L'Oreal Brow Magic seems like a definite solution to it.
If the company is able to price it properly, its sales will definitely blow up.
A brief look at the L'Oreal Brow Magic
L'Oreal Brow Magic has been designed in association with Prinker. The device comes with 2,400 tiny nozzles and printing technology with up to 1,200 drops-per-inch (dpi) resolution. On their phones, users can choose the eyebrow shape, thickness, and effects via the Brow Magic app. Using the phone camera, L'Oreal's ModiFace virtual makeup technology makes personalized recommendations for filler, micro-blading, and micro-shading effects.
Open the Brow Magic app and scan your face with the Modiface brow reader. Select the desired shape, thickness, and effect, followed by brushing primer through the brows. Then, move the gadget across the eyebrows in a single motion. Later, apply a topcoat finish. Your work is done. The eyebrow look created by the device can be easily removed using any makeup remover.
HAPTA makeup applicator has also been introduced
L'Oreal has also introduced a handheld, computerized makeup applicator for people with limited fine motor skills, called HAPTA. It is 360-degree rotatable, 180-degree flexible, and comes with a built-in battery that takes three hours to fully charge. A complete charge allows one hour of usage.