Novak Djokovic vs Rafael Nadal: Decoding their stats
Novak Djokovic vs Rafael Nadal: Decoding their stats
Jan 31, 2023, 04:16 pm
4 min read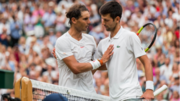 Serbian ace Novak Djokovic won a record-extending 10th Australian Open title on Sunday. He also equaled Rafael Nadal in terms of most Grand Slam titles in men's singles (22). Both Djokovic and Nadal are two of the greatest tennis players with a truckload of records to their names. Notably, both are showing no signs of stopping anytime soon. We decode their stats.
Djokovic has a slender lead over Nadal in ATP head-to-head
Djokovic has a 30-29 record over Nadal in their ATP Tour encounters. The former leads 15-13 in the finals. Meanwhile, Nadal owns an 11-7 record in their Grand Slam match-ups. The pair last met in the 2022 French Open quarter-finals, with the Spanish ace winning 6-2, 4-6, 6-2, 7-6(4). Nadal ended up claiming his 14th Roland Garros title.
Djokovic takes a massive lead in 'Big Titles' 
As per ATP, a 'Big Title' is a trophy comprising of a Grand Slam championship, the ATP Finals, an ATP Masters 1000 tournament, and Olympic singles gold medal. Djokovic's AO heroics garnered him his 66th 'Big Title'. Meanwhile, Nadal ranks second with 59 such honors.
Numbers in terms of ATP Finals and ATP Masters 1000 
Djokovic is tied with Swiss ace Roger Federer in terms of the ATP Finals (6). The latter claimed his sixth honor in 2022 in what was his 15th appearance. Nadal has failed to pocket a single ATP Finals trophy in 11 appearances. In terms of ATP Masters 1000 trophies, Djokovic won a record-extending 38th title in Rome, while Nadal has won 36 honors.
Grand Slam comparisons between the two
Djokovic has won 22 Grand Slams, including 10 Australian Open titles (highest), two French Opens, seven Wimbledon titles, and three US Open trophies. Nadal (22 Slams) has won 14 French Open honors (highest), two Australian Opens, four US Opens, and two Wimbledon titles. The Spaniard last won a major at the 2022 Roland Garros. He also won the AO at the start of 2022.
A look at their performance in Grand Slams 
Djokovic has a 341-47 record in majors, while Nadal tallies 314-43. Djokovic also has the most appearances in the men's Grand Slam final (33). Federer (31) and Nadal (30) follow suit. Djokovic has 44 major semi-final appearances, the second-most in men's singles after Federer (46). Meanwhile, Nadal has 38 appearances. Djokovic has a 22-11 record in Grand Slam finals, while it's 22-8 for Nadal.
10 AO crowns in Melbourne 
Djokovic has sealed the title here in Melbourne in 2008, 2011, 2012, 2013, 2015, 2016, 2019, 2020, 2021, and 2023. Notably, he was barred from playing in 2022. He has won all 10 finals here.
Djokovic equals these records of Nadal 
As per Opta, Djokovic is the second male player in the Open Era to win a single Slam title 15+ years after the first in the tournament (Australian Open 2008-2023), after Nadal (17 years between the Roland Garros 2005-2022). Djokovic is the second male player in the Open Era to stay unbeaten in his first 10 finals in a single ATP tournament after Nadal.
Nadal owns 14 Roland Garros titles
Nadal made his Roland Garros debut in the year 2005. He won the title in his debut season. His 14 titles have come in 2005, 2006, 2007, 2008, 2010, 2011, 2012, 2013, 2014, 2017, 2018, 2019, 2020, and 2022. He was ousted in the quarters in 2015 and semis in 2021. He suffered a fourth-round exit in 2009 and a third-round defeat in 2016.
Oldest French Open champion 
As per ATP, the 36-year-old Nadal surpassed Andres Gimeno as the oldest Roland Garros men's singles champion in history. Gimeno won the title at 34 years and 10 months in the year 1972. Nadal won the 2020 trophy aged 34 years and 4 months.
93rd ATP Tour honor for Djokovic
Djokovic now has 93rd ATP Tour honors. He steered clear of Nadal, who has 92. The Serb is only behind Federer (103) and Jimmy Connors (109). Djokovic has a 93-39 record in the finals, while Nadal's tally reads 92-38.
Djokovic kickstarts his 374th week as world number one
Djokovic, who was ranked world number five, is the new number one on the ATP Rankings, replacing Carlos Alcaraz. As per ATP, it's the biggest jump to the top spot between two editions of the ATP Rankings (since 1973). He is running his 374th week as the number one. Meanwhile, Nadal has stayed at the apex for a total of 209 weeks.
Djokovic became the fifth man to win 1,000 ATP matches
In 2022, Djokovic became the fifth man in the Open Era to reach a mark of 1,000 ATP wins after Connors, Federer, Ivan Lendl, and Nadal. Connors tops the tally of ATP wins (1,274-283). Meanwhile, Federer (1,251-275), Lendl (1,068-242), and Nadal (1,068-220) follow him. Djokovic has a 1,043-206 win-loss record.
Nadal has an Olympic honor to his name
Nadal beat Fernando Gonzalez of Chile in three sets to win gold in men's singles at the 2008 Summer Olympics. Djokovic claimed bronze in the same tournament.