Popular Arabic dishes that you must try in this lifetime 
Popular Arabic dishes that you must try in this lifetime 
Feb 07, 2023, 03:15 pm
2 min read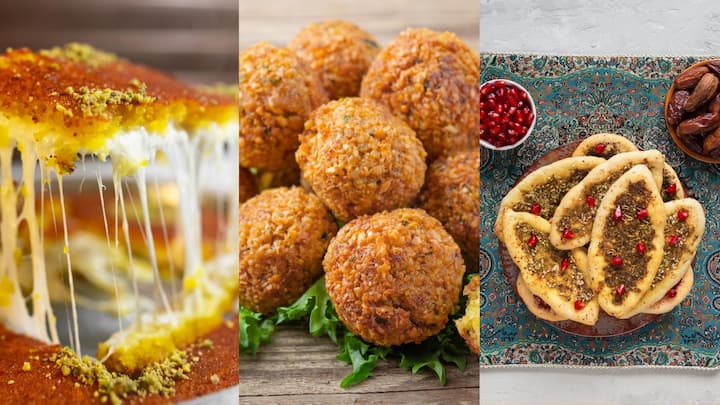 Known for its rich and unique flavor, Arabic food usually includes the use of olive oil, garlic, and several aromatic and flavorful spices like harissa, Za'atar, cumin, and cardamom. While hummus, manakeesh, and falafel are popular Arabic foods, there are several other unique items that you must try. Arabic food has also had an influence on Indian cuisine. Here are five must-try dishes.
Typically eaten as part of an Arabic mezze, tabbouleh is a healthy vegetarian salad that is delicious and refreshing. This crunchy and fresh salad is usually made with olive oil, chopped green onions, tomatoes, cucumber, lemon juice, parsley, and fresh mint. Some variations may have lettuce. You can also add a creamy dressing or vinaigrette to it to enhance the flavor.
One of the national dishes of Egypt, koshari is a popular Arabic vegetarian street food that is made with macaroni, lentils, and rice and topped with spicy tomato sauce. The dish uses a special Middle Eastern spice blend, fried onions, and garbanzo beans. According to legends, koshari was brought by the British to Egypt in the late 1800s.
If you want to try out an Arabic pizza for breakfast, then go for manousheh which is a traditional white flatbread made with olive oil and has an exotic topping of vegetables, herbs, and cheese. It is also sometimes topped with meat, eggs, and sugary treats for extra flavor. This popular street pizza is crispy on the outside and chewy on the inside.
Originating from the Ottoman Empire in the 18th or 19th century, shawarma is a popular Arabic dish where tender bits of spiced and skewered meat, garlic puree, hummus, tahini salad, and sauces are wrapped in pita bread. The dish is roasted on a slowly-turning vertical rotisserie or spit, giving it a smokey flavor. It is the perfect dish to have on the go.
A popular dessert in several Arabian countries, kunafeh is a cheesecake-like dish made with semolina dough and a thin noodle-type phyllo pastry called kataifi. It is usually soaked in a sweet, sugar-based syrup called attar and layered with a white soft cheese like Nabulsi and other ingredients like pistachio, nuts, and clotted cream. It is crunchy on the outside and creamy on the inside.