5 incredibly healthy things sandalwood can do to your body
5 incredibly healthy things sandalwood can do to your body
Jan 31, 2023, 06:34 pm
2 min read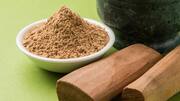 Let's know more about this aromatic ingredient from the realm of Ayurveda. Sandalwood belongs to a class of woods from trees in the genus Santalum and is available in both oil and powder form. It is often cited as one of the most expensive woods in the world as it retains its aroma for decades. Here are five health benefits of sandalwood.
Sandalwood features a plethora of anti-aging properties that can prevent one's skin from becoming saggy and wrinkly. It is effective in soothing inflammation and fighting off the damage caused by free radicals. Not just that, you can even bid adieu to those annoying acne and pimples that show up on your face. It also has anti-tanning compounds and those that remove scars too.
A study featuring 87 women undergoing breast biopsy revealed that a mixture of sandalwood, lavender, and orange peppermint helped curb their anxiety. Sandalwood essential oil has also been traditionally used to reduce anxiety, restlessness, and stress. A separate study found that those who inhaled sandalwood and lavender had better blood pressure levels than those who did not.
Soothes urinary system inflammation
As sandalwood oil and powder are packed with anti-inflammatory properties, it is useful in relaxing the urinary stem, promoting the easy discharge of urine. Additionally, it is also known to increase the frequency and quantity of urination, helping you flush out more toxins from your body. Add a few drops of sandalwood oil in warm milk or water and sip on it.
Sandalwood is blessed with the goodness of antispasmodic properties. It has an abundance of sedative compounds that act as muscle relaxants. Massaging sandalwood oil on the affected site of muscle spasm helps relax your nerve fibers, muscle fibers, and blood vessels, which puts an end to the severe pain. It is also effective enough to help you overcome acute muscle contractions.
Treats many viral and fungal infections
Buying sandalwood essential oil can help you in many ways when it comes to suffering from viral or fungal infections. It is particularly quite effective in treating coughs and other symptoms of viral infection including the common cold, fever, mumps, etc. In addition to this, sandalwood on its own has antiphlogistic properties that offer respite from inflammation caused by fever.