You can use makeup setting spray in so many ways
You can use makeup setting spray in so many ways
Jan 23, 2023, 12:06 pm
3 min read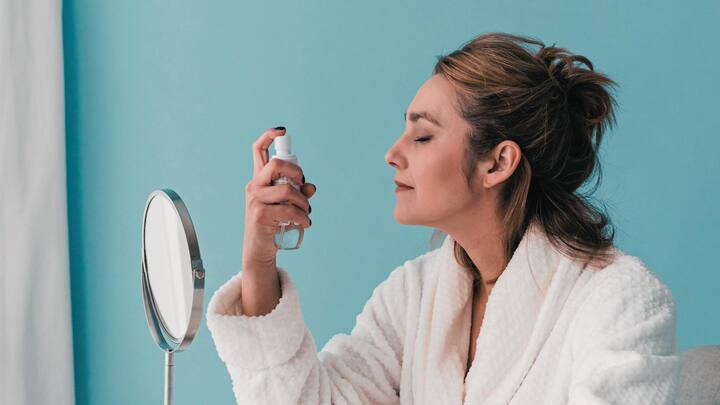 If you want your makeup to last longer and look flawless, then makeup setting spray is the beauty product you should go for. It will prevent your makeup from fading and smudging and give you an instant dewy glow. You can use it at the end of your makeup regime to lock in everything underneath. Here are five ways to use it.
Use it to set your eyebrows
Your eyebrows often refuse to stay in shape even after filling them in and styling them. After drawing your eyebrows using a natural-colored eyebrow pencil, spray some setting spray on a spoolie and gently brush your eyebrows with it. This will give your eyebrows a bushy and natural look, help them stay in shape, and define your facial features as well.
After applying your moisturizer and sunscreen, use a primer to make your base makeup look seamless and ensure that it lasts longer. However, if you have run out of your primer, use your makeup setting spray instead to create a flawless base. After moisturizing your skin, apply your setting spray and then go ahead with your foundation to reveal silky smooth skin.
Use it to make your eyeshadow pop
We often experience eyeshadow fallout while trying to create a dramatic and bold eye makeup look. Your makeup setting spray will allow the eyeshadow pigment to show up on your lids and create a bright and beautiful finish. Spray some setting spray on a flat brush and move it through your eyelids. This will help the color pop and prevent your eyeshadow from creasing.
Use it to make your own eyeliner
If you are bored with your classic black eyeliner, try a fun-colored eyeliner look to make your eyes do all the talking and add an extra zing to your overall look. Spritz some setting spray on your gel eyeliner brush and dip it in your favorite eyeshadow pan. The pigment will stick to the brush and give you a quirky and fun eyeliner shade.
Use it to make your highlighter more intense
A highlighter not only accentuates the highest points of your cheeks but also adds that golden glow to your overall look. If you want your highlighter to make you look like a glowing diva, then spray some makeup setting spray on a fan brush and dip it into your highlighter pan. This will intensify the shine and glow of your skin.