Djokovic wins his 22nd Grand Slam, equals Nadal: Key achievements
Djokovic wins his 22nd Grand Slam, equals Nadal: Key achievements
Jan 29, 2023, 05:15 pm
2 min read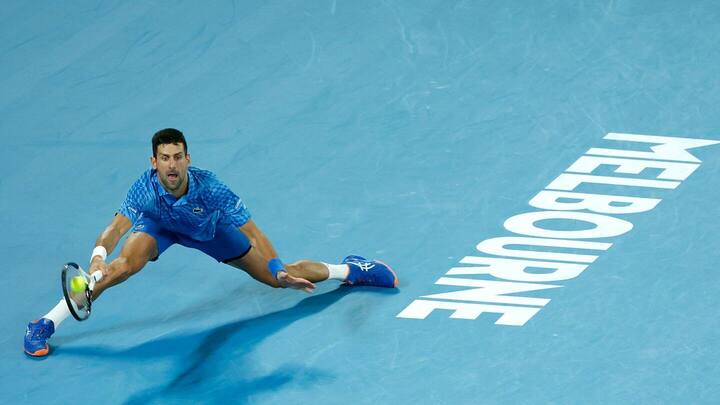 Novak Djokovic has equaled Spaniard maestro Rafael Nadal in terms of career Grand Slam victories by winning the Australian Open 2023 on Sunday. Djokovic sealed an emphatic straight-sets win over Greek sensation Stefanos Tsitsipas (6-3, 7-6, 7-6). Djokovic managed to clinch his 10th Australian Open crown, besides sealing a 22nd Grand Slam title. Here we decode his career achievements.
22 Grand Slam honors for the Djoker
Djokovic has sealed 10 AO wins in Melbourne to extend his record here. Meanwhile, the Serbian ace has pocketed 7 Wimbledon titles, three US Open honors, and two French Open crowns respectively. Djokovic has now extended his career Slam win-loss tally to 341-47. At the AO, Djokovic has a win-loss tally of 89-8. Djokovic made his 33rd Slam final appearance (22-11 record).
10 AO crowns in Melbourne
Djokovic has sealed the title here in Melbourne in 2008, 2011, 2012, 2013, 2015, 2016, 2019, 2020, 2021, and 2023. Notably, he was barred from playing in 2022. He has won all 10 finals here.
93rd ATP Tour honor for Djokovic
Djokovic pocketed his 93rd ATP Tour honor, steering clear of Nadal, who has 92. Djokovic is only behind Roger Federer, who pocketed 103 titles. Djokovic is now the new No. 1 in the ATP Rankings. Djokovic, who spent a record 373 weeks as World No. 1, has returned to the top spot for the first time since June 2022. Djokovic is 12-0 in 2023.
Nadal's journey in Grand Slam tourneys
Nadal, who was ousted in the 2nd round at AO 2023 after reeling through an injury, has also lifted 22 Slam titles. Nadal has lifted 2 AO honors, winning the crown here in 2009 and 2022. He has won a record 14 French Open titles, besides 2 Wimbledon trophies and 2 US Open honors. He has a win-loss record of 314-43 at Slams.
Djokovic equals these records of Nadal
As per Opta, Djokovic is the second male player in the Open Era to win a single Slam title 15+ years after the first in the tournament (Australian Open 2008-2023), after Nadal (17 years between the Roland Garros 2005-2022). Djokovic is the second male player in the Open Era to stay unbeaten in his first 10 finals in a single ATP tournament after Nadal.
A unique record for Djoker
As per Opta, Djokovic is the 3rd oldest player in the Open Era to secure the title at the Australian Open. He is only younger than Ken Rosewall (in 1972 and 1971) and Federer (2018).
Novak Djokovic sobbing uncontrollably with his team after winning the Australian Open. A very emotional celebration from the new/old World No. 1, by far the most emotional of his career. pic.twitter.com/JOGgIXo7Y1

— Gaspar Ribeiro Lança (@gasparlanca) January 29, 2023