'Cunk On Earth': Reasons to watch Netflix's latest mockumentary
'Cunk On Earth': Reasons to watch Netflix's latest mockumentary
Feb 03, 2023, 05:30 pm
2 min read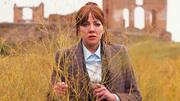 Netflix has spoilt us with options of numerous comedies and docuseries. The latest offering from the streaming platform is a hilarious mockumentary, Cunk On Earth. Debuting at the end of January, the series has the best of two worlds - history and comedy. Here are reasons to watch it and everything to know about the latest offering starring Diane Morgan.
A mockumentary that chronicles human civilization 
Morgan's character, Philomena Cunk, explores the human civilization's history from its beginning but with a bent of comedy. In an attempt to understand the existence of humanity, she goes on to interview real-life experts from fields such as museum curators and archaeologists. Even though it has been presented in a straightforward format, it still is very much a mockumentary.
Feels like a documentary with a touch of comedy
The mockumentary comes off as a documentary by David Attenborough but has elements of a daily show. In Cunk On Earth, Morgan's character goes out asking preposterous questions to experts from different fields in order to know about human civilization. But what is worth watching is their genuine answer with a flat tone that sets up as nothing less than a comic piece.
Episodes have been divided into 30 minutes each
Unlike most of the series that you would watch on Netflix, Cunk On Earth is the one that has only five episodes. Each of these episodes has been split into 30 minutes of screen time and needs to be watched in sequential order. The first episode In The Beginnings is about retracing the first steps of early man.
Morgan's character has been part of many BBC shows
Although this is for the first time that Cunk, the character played by Morgan, is a part of a Netflix series, its glimpses have been seen in the past. How, you ask? Well, Morgan has appeared on various productions of the BBC including Other Humans, where she displayed the persona of Cunk. Interestingly, Morgan also wrote Cunk on Everything: The Encyclopedia Philomena in 2018.