Rajkumar Santoshi's 'Gandhi Godse Ek Yudh' cleared by CBFC
Rajkumar Santoshi's 'Gandhi Godse Ek Yudh' cleared by CBFC
Jan 14, 2023, 07:14 pm
3 min read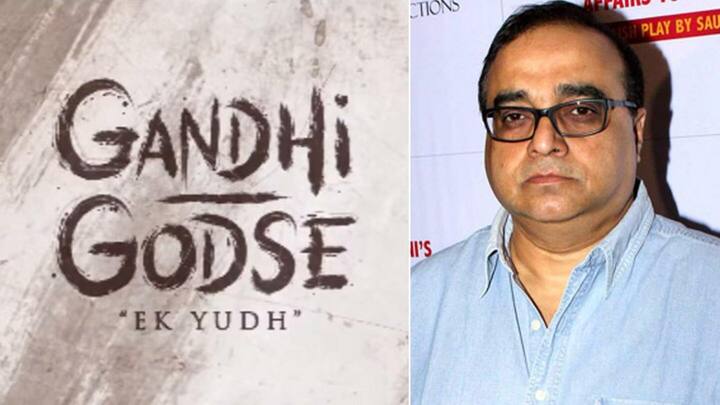 Rajkumar Santoshi's Gandhi Godse Ek Yudh has been in the buzz ever since its announcement. The filmmaker has revealed he was earlier afraid that the Central Board of Film Certification (CBFC) might not clear the upcoming film—which is based on a sensitive topic—but it has been passed without any changes. Its recently-released trailer promised a new take on Mahatma Gandhi and Nathuram Godse's ideologies.
Why does this story matter?
The CBFC's history of censorship goes long, and the board has been condemned by many filmmakers, too. A certification board censoring films has not been accepted by many directors.
Recently, Shah Rukh Khan starrer Pathaan faced the wrath of the board, too.
Luckily, Santoshi's comeback film, which revolves around a volatile topic (considering the current political scenario), hasn't faced any changes from the board.
Crux of Santoshi's next film
Santoshi's film is a fictional take on what would have happened had Gandhi survived Godse's bullets. Set in a parallel universe, it is touted to be a clash of their ideologies. Deepak Antani's Gandhi sets out to change Chinmay Mandlekar's Godse with his iconic smile and calm demeanor. Both actors look like spitting images of their characters and essay the roles with sheer conviction.
Santoshi on censorship of his film
This is not the first time that Santoshi will be narrating a different take on Gandhi. One of his earlier films, The Legend of Bhagat Singh, also had taken an unpopular take on him. Speaking to Dainik Bhaskar, he said, "Even here, my film has a very different take on Gandhi. I was actually scared that the [CBFC] may not pass the film altogether."
Clash with 'Pathaan'; CBFC's advice to SRK starrer
Santoshi's film is slated to clash with SRK's comeback film Pathaan at the box office. Interestingly, the latter got some "advice" from the Prasoon Joshi-led CBFC regarding certain changes. Pathaan received flak from right-wing sympathizers for allegedly promoting vulgarity with its song Besharam Rang, starring SRK-Deepika Padukone. Joshi stated that the board is committed to finding the right balance between sensibility and creativity.
CBFC's history of censoring films
The CBFC has received flak for its archaic way of perceiving films and censoring films. Sanjay Leela Bhansali's 2018 film Padmaavat, which was earlier titled Padmavati, faced a tiff with the CBFC. Its song Ghoomar was re-released with CGI on Padukone's outfit. Moreover, the film's release was postponed due to protests in Rajasthan by the right-wing group Karni Sena.
Anurag Kashyap and ex-chief Pahlaj Nihalani's social-media tiff
Earlier, films like Haider, The Dirty Picture, Udta Punjab, and several Anurag Kashyap films have faced censorship by the CBFC. Udta Punjab was reportedly advised to undergo 89 cuts for certification for theatrical release. Kashyap openly called out the then CBFC chief Pahlaj Nihalani on Twitter and went to the Bombay HC with the Udta Punjab certification case back in 2016.